Local food, Covid-19 and the future of the UK's food systems
The local food sector came into focus during the Covid-19 pandemic as the UK's mainstream food systems experienced shocks and shifts. This project, led by Dr Anna Krzywoszynska, examines this period and shows how we can enhance the resilience of the local food sector and of the wider food system.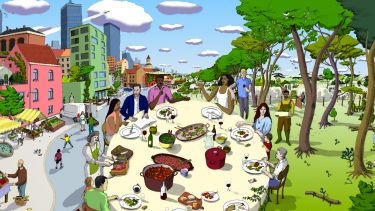 About the project
Empty supermarket shelves are one of the most enduring images of the early Covid-19 pandemic. During this time, food became a topic of public debate in an unprecedented way. While mainstream food systems initially struggled, the local food sector saw a huge increase in consumer demand and interest. Local food systems in the UK differ from the mainstream food system in important ways. They are based on growing and producing food close to the place of its consumption, and on distributing this food through short supply chains (e.g. direct sales). They typically also use environmentally friendly production methods, and employ business models based on fair wages and contracts. Local food systems also include organisations which work to embed local food in cities in places (e.g. Sustainable Food Places).
Local food system actors have long advocated for a greater inclusion of local food production in the UK's food system to increase its resilience and sustainability. During the pandemic, and working under extreme stress and uncertainty, local food producers and suppliers 'stepped up' to fill a consumer need. Local food initiatives were often at the forefront of emergency food response. The pandemic not only substantiated the importance of this sector, it also provided an opportunity to envision a food systems transformation centred on strengthening local food systems.
In this project, we worked with a range of organisations and businesses in the local food sector throughout 2020-21 to understand the impacts of the pandemic, to extract key learnings, and to propose future trajectories. Overall, we found that:
The local food sector showed resilience to the pandemic and contributed to the resilience of the overall UK food systems
The local food sector has an ambitious vision for transforming the UK food system through relocalisation
The ambition of the local food sector is stymied by systemic barriers
---
Project findings
How did Covid-19 impact the local food sector? This is the topic of our report 'Resilience and Transformation'. On the basis of rich qualitative data, we find that local food actors were able to be resilient due to specific characteristics: flexibility and rapidity, adaptability, diversity, and redundancy. We further find that these resilience characteristics were impacted by the local food system actors' social capital.
'Resilience and Transformation'
How was Covid-19 experienced by local food system actors?
In the report Riding the Waves, we build a rich narrative of the pandemic experience using qualitative data collected from 12 local food businesses and organisations. We used a unique longitudinal methodology, which included monthly diaries and repeated interviews, to understand how the pandemic was experienced by our participants as an ongoing event throughout 2020 –2021. With our participants, we narrate the lows and highs of the pandemic experience, the despair and the comradery, the fear of losing one's livelihoods and the joy of helping one's local community. We draw attention to the mental health impacts of the pandemic as a long emergency.
In a following paper, we ask: Were local food sector actors resilient to the Covid-19 pandemic? We specifically examine the role of social capital in the local food sector's "bounce back" and "bounce forward" resilience. Whereas "bouncing back" means being able to return to a pre-shock state, "bouncing forward" means having the capacity to transform into a new, improved state. We find that while strong bonding and bridging capitals support the local food sector's "bounce back" resilience, a lack of linking social capital, most visible as a "middle-class image problem," is preventing it from achieving a transformative "bouncing forward".
To better understand what is holding the local food sector back, we asked: What are the barriers to the further development of the local food sector? We undertook a review of key publications commenting on the state of the UK's food system in the wake of the pandemic (2020-2021). We analysed 30 publications from the local food sector and the mainstream (including key national food policies published in this period, such as The National Food Strategy). In the report 'How is 'the local' framed in UK food system debates?', we conclude that 'local food' is understood very differently by these two groups. Mainstream actors see local food as an add-on to the existing food system, providing additional resilience through specific initiatives. In contrast, the local food actors see local food as central to a wholesale transformation of the UK food system, increasing resilience, sustainability, and social value. The deep divergence between these positions suggests that there is little room for dialogue between the groups at the moment, apart from on specific issues, such as public procurement.
'How is 'the local' framed in UK food system debates?'What would a localised UK food system look like, and how do we get there? To answer this question, we undertook a visioning exercise with a group of key local food system stakeholders: 'A force for good. A vision, models, and pathways for a local food sector which transforms lives, livelihoods and landscapes'. This report communicates the local food sector's ambition to be an engine of change. It is not a description of what the UK's local food systems are today, but of where they could be, and of how we can get there. The Vision, Models, Definitions, and Narrative sections in this report illustrate how local food systems can become an engine of societal, economic, and ecological transformation. The Strategies section indicates three main arenas for action to make this transformation a reality.
In addition to the report, you can download the two models which explain how a localised food system works as a set of relationships. The Ecosystem model illustrates how a local food system works through a series of virtuous cycles. The Rejoice model illustrates how these cycles produce key societal goods which enable a societal and ecological reconnection. You can download the full-size resources, including the artists' vision of the local food system found at the top of this page, via the link below. 
Project team

Dr Anna Krzywoszynska - Anna acted as the Principal Investigator of this project while employed at the University of Sheffield's Institute for Sustainable Food, and is currently an Assistant Professor in the Science, Technology and Policy (STePS) section at the University of Twente. She is an interdisciplinary social scientist with expertise in agricultural and environmental knowledge, public participation in science, agricultural sustainability, and energy transitions. Her overarching research interest is in transforming knowledge-cultures in different settings through strengthening the relationship between humans and their environments. Her current research interests include human-soil relations and knowledge systems, the co-production of knowledge between science and society, and the role of local food systems in achieving socio-environmental justice. She contributes to debates in the interdisciplinary fields of Anthropocene studies and more-than-human scholarship, most recently in relation to care, labor, and relationality. She has published widely in the fields of science and technology studies, environmental humanities, and human geography.

Anna is currently the Vice-Chair of the International Union of Soil Science's Division 4: The Role of Soils in Sustaining Society and the Environment. She is also an Associate Editor of the journal Environmental Humanities. She has also created and continues to lead the Soil Care Network, a transdisciplinary community of professional and amateur soil researchers. 

Professor Damian Maye - Damian acted as the Co-Investigator on this project. He is a rural and food geographer with research interests in various aspects of agri-food restructuring, and has worked at the CCRI since 2007. Damian is working across three research areas at present. First, he has a long-term research interest in alternative and local food networks. Second, he is working on projects related to animal and plant disease management. Lastly, he is interested in debates about food security and food systems, including impacts and responses linked to Brexit and the COVID-19 pandemic.

Dr Stephen Jones – Stephen is an interdisciplinary social scientist with expertise in human-environment interactions and local food systems. Stephen acted as a Post Doctoral Research Associate on this project. Previously, he worked on projects on human-soil relations at the University of Sheffield, and on antibiotic resistance at the University of Nottingham. His PhD at the University of Nottingham took a transdisciplinary approach to the study of soil quality in the East Midlands of England by using methods from both social and soil science disciplines, as well as drawing upon academic and none academic bodies of knowledge. He is currently employed as a Senior Specialist in Social Science at Natural England.

Dr Jasmine Black - Jasmine acted as a Post Doctoral Research Associate on this project. She works with farmers, growers and policymakers to create more sustainable ways of producing food and enhancing above and below-ground biodiversity. She is currently undertaking this work at the CCRI and was previously on the Innovative Farmers Programme (Soil Association). She has a PhD in bulk and molecular soil organic carbon dynamics in the Amazon, Guyana. She has also lived and worked in Japan on organic farms, natural agriculture cooperatives and Japanese gardening.

She is passionate about using inclusive methods of landscape and soil management, using socially engaged and artistic practice to capture the voices of diverse communities and the non-human. She uses methods such as theatrical storytelling, interactive workshops, writing and illustration. She recently won a two-year Fellowship with the UN University's Satoyama Initiative in Japan to work on empowering alternative food networks through social science and artistic practice.

Project partners

This project was co-designed and co-delivered with members of the Advisory Board, which included the following organisations from the local food sector:

Project funders

This project was funded by the Economic and Social Sciences Research Council through the UKRI Ideas to Address COVID-19 grant call. 'The local as a site of food security resilience in the times of pandemic: opportunities, challenges and ways forward', funded by the Economic and Social Research Council (ES/V004107/1).