Cereals: The Arable Event
On 12 and 13 June 2019, experts from the Institute for Sustainable Food at the University of Sheffield will be stepping out of the laboratory and into the fields of Lincolnshire for Cereals 2019 – the UK's biggest arable event.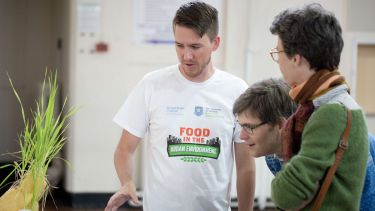 At stand 418 we'll be handing out free ice-cream by Our Cow Molly, a family-run dairy farm in Sheffield. The University of Sheffield has built up a partnership with the farm, helping us to reduce our environmental impact and supporting them to expand from producing 8,000 litres of milk a week, to 40,000.
We'll also be offering samples of beer brewed using herbs instead of hops, based on a 1,000-year-old recipe. Our plant scientists have worked with the University's Archaeology Department to develop it, using mass spectrometry imaging to analyse and identify the biological origin of beer residues left in medieval pots.
We'll have an afternoon programme of talks at our stand, starting on the hour and running for approximately 15 minutes, followed by opportunities to ask questions and chat with our world-class academic experts.
Professor Duncan Cameron, Director of the Institute for Sustainable Food, will talk about soil health and how we'll feed ourselves as climate chaos takes hold.
Dr Ruth Little will discuss what farming will look like post-Brexit and how this will change the UK's landscape.
Professor Tim Daniell will deliver a talk on how using different varieties of crops in combination with altered agronomy could reduce leaching and emissions of nitrogen fertilisers.
Dr Heather Walker will talk about how state-of-the-art analytical technology can be used in the field to measure things like plant and soil health, crop yield and potentially even to predict disease outbreaks, and discuss what this means for farmers.
Professor Jonathan Leake will deliver two talks at Cereals – one on the main stage at 9.40am on 13 June, where he'll present new findings suggesting leys (which were recommended in the Department for Environment, Food and Rural Affairs' 25-year Environment Plan) increase wheat yields, cut fertiliser requirements and improve soils.
His second talk, at the Institute's stand, will look at how wheat affects soil health, the role of mycorrhiza in this and how can we improve soils through crop rotations and field management.
The Institute for Sustainable Food is dedicated, not just to producing groundbreaking research and innovations to feed a growing population while protecting the natural world – but to working with farmers, policymakers and the public to implement those solutions in the field. At Cereals we'll be building connections to make that happen.