Feeding the world with climate-ready rice
More than half of the world's population relies on rice – but as climate chaos takes hold, this lynchpin of global food security is under threat.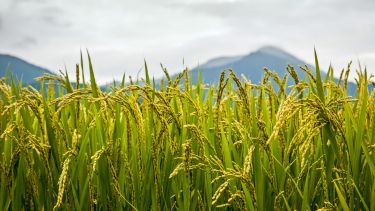 It takes around 2,500 litres of water to produce a single kilogram of rice, and paddy fields – flooded areas of luscious green grasses – cover 157 million hectares of land, an area the size of Mongolia. But almost half of the world's supply of this staple crop depends on rainfall, and is grown in areas where drought and high temperatures are predicted to become more frequent and damaging.
So scientists from the Institute for Sustainable Food at the University of Sheffield have been searching for a way to help rice plants cope with a more extreme climate – and they've found a solution by manipulating microscopic pores on the plants' leaves.
Like most plants, rice uses these tiny openings – called stomata – to regulate their intake of carbon dioxide for photosynthesis, as well as the release of water vapour. When water is plentiful, stomatal opening helps plants to regulate temperature by evaporative cooling – similar to sweating.
Scientists from the Institute for Sustainable Food have discovered that engineering a high-yielding breed of rice to have fewer stomata helps the crop to conserve water and to survive drought, even at higher temperatures.
During drought conditions, rice plants normally close their stomata to slow down water loss – but rice with fewer stomata conserves water even better, and can use that water to maintain plant cooling.
Dr Robert Caine from the Institute for Sustainable Food, a Research Associate in the University of Sheffield's Department of Molecular Biology and Biotechnology, was the first author of the study. He said: "As extreme droughts and high temperatures become more frequent, water will become more precious than ever. That presents particular challenges for rice farmers – and could lead to substantial crop loss.
"Our study has shown that rice plants with fewer stomata are drought tolerant and more conservative in their water use. This means they should perform better in the future.
"We found that the engineered rice crops gave equivalent or even improved yields, which means they could have a massive impact on our future food security, which is threatened by climate breakdown."
During the study, published in New Phytologist and conducted in collaboration with the International Rice Research Institute in the Philippines and colleagues at the University of Nottingham, researchers found that rice with fewer stomata used 40 per cent less water than conventional breeds.
When grown in conditions with higher levels of carbon dioxide, only the engineered rice plants were able to survive drought and temperatures of 40C. At temperatures of 30C, the rice with fewer stomata were 50 per cent more likely to survive, and in moderate drought conditions during the flowering stage, the engineered plants produced higher yields.
The institute's Julie Gray, Professor of Plant Molecular Biology and lead author of the study, said: "Stomata help plants to regulate their water use, so this study could have a significant impact on other crops which are at risk as climate chaos takes hold.
"At the University of Sheffield we believe in a sustainable future and work towards solutions to the most pressing global challenges."
Dr Caine has recently been awarded a two-year Global Challenge Fellowship, and will continue his rice research in the Mekong Delta region of Southern Vietnam, helping farmers to address environmental factors which are worsening as the climate emergency accelerates.
The Institute for Sustainable Food is dedicated to finding innovative ways to feed the world while protecting the natural world. With 80 percent of people facing hunger reliant on rice, techniques such as reducing the number of stomata could help farmers and communities on the front line of climate chaos to build resilience against drought.
To find out more, watch the BBC's Follow the Food – The Water Challenge.
This research was funded by the Newton Fund through the Biotechnology and Biological Sciences Research Council. The Newton Fund builds research and innovation partnerships with countries to support their economic development and social welfare.
During the course of the Newton grant, the University of Sheffield researchers worked with partners at the International Rice Research Institute in the Philippines, Kasetsart University in Thailand and colleagues at the Chinese Academy of Agricultural Sciences in Beijing.
Flagship institutes
The University's four flagship institutes bring together our key strengths to tackle global issues, turning interdisciplinary and translational research into real-world solutions.