You are viewing this course for 2024-25 entry. 2023-24 entry is also available.
Key details
A Levels

ABB


Other entry requirements
UCAS code

P500

3 years

/

Full-time

September start
Optional placement year
Study abroad
Course description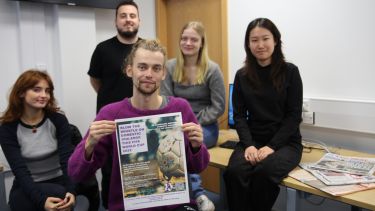 As part of your course, you'll practise journalism for real, covering your own patch in the city. Every assignment will present a different challenge. You could be on location filming for a documentary. You may be reporting from a courtroom on the details of a criminal prosecution. Another day could find you interviewing a politician or a sports star.
The work you complete with us will help to build up your portfolio and CV. Our unparalleled connections in the media industry can help to open up a huge range of placement opportunities, and we offer you the option to take a placement year to help gain vital industry experience and get ahead of the competition before graduation day. 
Many of our graduates go on to specialise in areas such as TV news, sports reporting or political journalism. Before they find their niche, we believe that our trainee journalists need to become fantastic reporters, editors, commentators and producers. This course will allow you to perfect the full range of skills you need as a contemporary media professional, including knowing the difference between 'good' and 'bad' journalism; practising within the bounds of media law and ethics; and how to spot and tell great stories in print, television, radio and online. 
As a hands-on department at a prestigious Russell Group university, we're uniquely placed to offer you the best of both worlds. Our staff are award-winning editors and authors, active journalists and world-leaders in media and communications research. During your time with us, you'll receive the perfect balance of practical know-how and theoretical knowledge on the hottest issues within industry. 
Join us and follow in the footsteps of alumni who are working for the BBC, Press Association, Bloomberg, The Guardian and countless other media organisations all over the world.
Our BA Journalism Studies course is currently accredited by the National Council for the Training of Journalists and the Professional Publishers Association.
Modules
A selection of modules are available each year - some examples are below. There may be changes before you start your course. From May of the year of entry, formal programme regulations will be available in our Programme Regulations Finder.
Choose a year to see modules for a level of study:
Title: Journalism Studies BA course structure
UCAS code: P500
Years: 2023
First year
Your first year of study comprises a single, integrated core module.
Essential Journalism

This module develops news writing, news production and academic skills, combined with theoretical understanding of journalism in both a national and international context. It also provides an introduction to key future themes such as media law, ethics and analysing information. Students will learn how to write and structure news stories, develop interviewing skills, source and use quotes, and journalistic social media skills, amongst others. Themes include; journalism and politics; media freedom; journalism and society; audiences; technology and innovation in journalism; law and ethics; current debates in industry; and analysing news agendas.

120 credits
Second year
In your second year, you take three core modules and choose a fourth from either those taught by the Department of Journalism Studies or the Guided Module Choice options available from other departments.
You also have an option to take Languages For All modules.
You must pass the Media Law for Journalists module in order to continue to year 3.
Core modules
Live News Production

This module will give students a range of multi-platform production skills to showcase their journalism and to enable them to operate as critically thinking professionals. The module will gradually build up students' real world experience and will enable them to operate as self-motivated individuals as well as within a team. Students will work as Journalists in a variety of ways - ranging from the fast paced Newsday environment to the production of features, documentaries, projects and portfolios over a longer period of time. Students will learn to work as professionals while adhering to industry guidelines and making connections with academic theory.

60 credits

Media Law for Journalists

This module provides for those wishing to be journalists, or studying journalism, essential knowledge of media law applying in England and Wales, and of regulatory codes which UK journalists should comply with. This law includes that of defamation, privacy and contempt of court, and other law governing court reporting. The codes seek to uphold journalistic standards generally, including protection of people's privacy and of the identities of sources promised confidentiality. The module also demonstrates that UK journalists can assert `human rights' which in law and the codes uphold freedom of expression, including publication of material `in the public interest'.

20 credits
Optional modules A
You must choose one of the modules from this list.
Reporting Justice

This module introduces journalism students to the skills required to write news reports from Crown, magistrates' and coroners' courts cases. Student will visit these courts to makes notes on real cases for these reports. Feedback is given to each student on their draft and finalised reports, and on their notes. Their accuracy in note-taking and speed in writing such a news report is assessed in a formal examination in which they write up a news report of a hypothetical 'prosecution opening' of a trial.

20 credits

Introduction to PR for Journalists

This module will provide students with knowledge and skills necessary to communicate messages through the media. Case studies and practical workshops will allow students to learn about the practice of media communication. They will learn how the media operates and how to communicate messages through interviews, press conferences, news releases and social media. Topics covered in the module will include the development of communication strategies, the understanding of news values and news cycles and strategies for successful and ethical communication.

20 credits
Optional modules B
You must choose one module from either this list OR the Guided Module Choice list below.
Data Driven Storytelling

Data-driven approaches to reporting are gaining in popularity and importance in today's world. Established media institutions, such as The New York Times in the US or The Guardian and Press Association in the UK (and many more around the world) already have units that specialise in data journalism. Thus, it becomes essential for the next generation of journalists to be data-literate and to appreciate how data can be verified and used not only to find stories but to tell stories. This module is designed to make you confident and comfortable in working with data and, furthermore, to expand your journalistic toolkit for data-driven, analytic and investigative journalism.

20 credits

Introduction to Investigative Journalism

The module provides an introductory grounding in the skill sets, methodology and knowledge needed for investigative journalism, and includes practical assessment. It includes opportunity for students to further develop knowledge of how to use the Freedom of Information Act.

20 credits

Journalism and Political Communication

Journalism and Political Communication explores news media coverage of political events, procedural political processes such as policy making and societal processes such as civic campaigning. By focusing on different aspects of political communication - broadcast and digital - both in Britain and internationally, the module seeks to answer a significant and central question: Does media reporting of politics help to inform and clarify or to obfuscate public understanding of policy, political processes and political issues? The module is delivered via interactive lectures and seminars. Assessment is via a case study on a topic selected by the student and approved by the module leader.

20 credits

Journalism in History

This module aims to set the processes and outputs of UK journalism in their historical context. You will develop an understanding of how journalism developed as a commercial activity and a recognisable profession in the nineteenth century, and how these beginnings influenced the shape of journalism throughout the twentieth century, with the growth of the tabloid press, the battles of the press barons, the rise and fall of the print unions, coverage of scandals, and the growth of consumer and lifestyle journalism. You will discuss and debate key issues such as the emergence of a free press, campaigning and investigative journalism, the development of an alternative media and representation of diversity within the press.

20 credits
Guided Module Choice
Modern Japanese History

This module will explore key themes in the modern history of Japan from the mid-nineteenth to the late twentieth century, while developing core skills in reading primary sources and historical analysis. Broad themes include identity and nation-building, social and economic change, war and its practical and cultural legacies. Key sub-disciplinary approaches will be based in social and cultural history, with some excursions into other historiographical approaches. It will be delivered through weekly lectures, and seminars structured around developing primary source analysis skills and relating these to appropriate secondary literature. 

20 credits

Territory, Power and Policy

The module introduces you to contemporary debates within political geography. You will develop a detailed understanding of political processes at a variety of spatial scales, from the international, national to the local, from collective politics to individual political behaviour. You will explore questions of power, efficacy and conflict with an emphasis on the spatial and place-specific aspects of politics in relation to issues including: geopolitics and international relations; the state and territoriality; the politics of nationalism and citizenship; civic activism; and individual political participation.

20 credits

Who Gets What? Social Justice and the Environment

Environmental issues continue to be a key area of contemporary public concern and current political debate. They raise fundamental questions about the relationship between society and environment, and the politics and equity of that relationship. This module provides a geographical introduction to these issues and debates with examples from a range of scales from the global to the local. It also considers the role of stakeholders and how they benefit or are disadvantaged by policy that seeks to address issues to do with the environment-society relationship. The module then develops these core ideas through inter-related sections covering debates focused on different empirical themes.

Particular skills will be achieved including: policy analysis, ethical awareness, positive mindset, global awareness and self-awareness.

20 credits

Philosophy of Mind

This module provides a survey of philosophical theories of the mind, looking at such questions as: How is consciousness possible? Why is it that vibrations in the air around us produce conscious experiences of particular auditory experiences in our minds? Why is it that electromagnetic waves hitting our retinas produce particular visual experiences in our minds? What makes our thoughts represent things in the world? What is it about your thought that cats have whiskers that makes it about cats and whiskers? What is it about your thought that there are stars in the universe too far away for any human to have perceived them that makes it about such stars? What is the relation between thoughts and conscious experiences and brain states? We'll look at a variety of answers to these and related questions and examine some of the most important and influential theories that contemporary philosophers have to offer.

20 credits

Philosophy of the Arts

This module introduces students to a broad range of issues in the philosophy of art. The first half asks 'What is art?'. It examines three approaches: expression theories, institutional accounts, and the cluster account. This is followed by two critiques focusing on the lack of women in the canon and problems surrounding 'primitive' art. The evolutionary approach to art is discussed , and two borderline cases: craft and pornography. The second half examines four issues: cultural appropriation of art, pictorial representation, aesthetic experience and the everyday, and the nature of artistic creativity.

20 credits

Understanding 'Race' and Migration

This module explores the meaning of 'race' and migration in various social and political contexts. It aims to develop an in-depth understanding of sociological theories of 'race', racism and migration through an exploration of the development of 'race' as an ideology, as a concept influenced by history and politics, and through its relevance in the contemporary context. The module examines how ideas about race and migration help to shape and determine social and political relations. It also explores the role of race and migration as major sources of social divisions and how racism operates in the reproduction of structural inequalities. These issues are explored through sociological theory, as well as policy and practice areas such as theories of racialised identities, immigration regimes, education and criminal justice.

20 credits

Sociology of Family: Continuity and Change

Using a sociological and anthropological perspective this unit seeks to problematise the concept of 'family' as a natural and universal phenomenon. Rather, it underscores the need to explore the notion of the family as a social and historical construction and will achieve that by examining the diversity of family life in countries around the world. While acknowledging the impact of social change on different family constructions, it will also seek to show how some family structures remain the same, creating a situation where one society can have multiple family structures. In particular, it will focus on the role of the state in constructing the family and highlight the impact these different constructions of family life (and the changes they have undergone) have on particular individuals such as women, children and the elderly.

20 credits

The Sociology of Crime

Crime, and processes of criminalisation, are major features of all societies. Since the 19th Century, sociologists have developed a range of criminological theories to explain 'criminality'. This module will review the historical development of a range of theoretical approaches to the study of crime; consider how sociologists have studied the primary institutions of social control such as the police and prisons; and examine the contribution of the sociology of crime to issues of contemporary significance

20 credits

Crime, Justice and Social Policy

This unit examines the variety of responses to crime that encompass the use of both crime policy and social policy. Crime policy responses encompass the use of the role of the police, courts and prisons. Alongside this is the social policy approach which includes health, housing, education, employment, youth and family as a means of crime reduction. The module seeks to demonstrate the criticism of 'traditional' crime policy-based responses to crime and the way in which social policy has emerged as an alternative way to tackle the so-called 'crime problem'. The module includes a consideration of theories of crimes which make competing arguments for the use of crime or social policy as a response; the role of criminologists in policy making; and the criminalisation of social policy as an unintended outcome.

20 credits

Men, Feminism and Gender relations

This unit provides a critical examination of the growing body of sociological and other literature concerned with men and masculinities. It will locate this growth of interest within the context of the feminist movement and subsequent writings/critiques of men and patriarchy. Significantly, the unit will connect to wider scholarship on gender relations, with topics and case studies including: men in sport, men and media, men and health/ well-being, men and feminism, as well as men and sexualities. Methodological and epistemological issues involved in the study of men and masculinities will also form part of this module.

20 credits

Sociology of Media and Consumer Culture

This module examines the relationship between media and consumer culture. It explores debates of audience research, influence, marketing, and advertising. Students will develop an understanding of media, consumer culture, and their wider impacts on society.

20 credits
Third year
In your third year, you take two core modules, then choose from a range of others taught by the Department of Journalism Studies and the Guided Module Choice options available from other departments.
You also have an option to take Languages For All modules.
Core modules
Magazine Journalism and Production

In this module you will produce a multi-platform brand specifically for a target market. It combines working under your own initiative and working as part of a team to launch a new magazine that you will write and design as well as creating digital and social content and appropriate multimedia, as well as commissioning content from colleagues. You will undertake market research, an analysis of your competitive set and produce a business plan that demonstrates the commercial potential of your brand. When working as a team, you will learn how to deal with different personalities and skill sets while developing a sense of professional conduct as you produce a magazine that is the sum of all your work.

40 credits

Final Project

'You will prepare and execute a substantial piece of work that either analyses an issue in journalism, or is a piece of journalism publishable on a platform of your choice. Under the guidance of a named supervisor you'll be able to choose your own topic, and in the process be able to see how almost any topic can be investigated and researched from a journalistic and academic perspective. You'll be able to make an informed choice about the nature of your project in relation to your own strengths, weaknesses and ambitions.

40 credits
Optional modules A
You must choose one of the modules from this list.
News Project

This module aims to coach, support and develop the skills required in specialist reporting, such as crime, education, data, health, politics, in a bid to allow you to report more creatively, analytically and develop off-diary news-gathering abilities to appeal to both regional and national, and international audiences as well as exploring campaign opportunities and developing project management skills by the creation of a branded news organisation.

20 credits

Television and Radio Live Production

The module will cover the production of individual radio packages including pitching story ideas, and using sound and audio imaginatively to create radio packages. You will be part of a team producing a television news magazine-style programme, where longer television news packages and special reports will be put together over a number of weeks.

20 credits
Optional modules B
You must choose one module from either this list or the Guided Module Choice list below.
Free Speech and Censorship

Free Speech and Censorship critically explores the historical and contemporary status of freedom of speech and expression and the limits and constraints on this liberty. The module covers topics as varied as the philosophies of free speech; the history and significance of free speech; the legal framework for the protection of free speech in Europe and the US; the limits of free speech and press freedom; debates about harm and offence. Students taking this module should be interested in examining these debates as they apply to contemporary media, legal and political systems. Assessment is via academic coursework on a topic selected by the student and approved by the module leader.

20 credits

Gender, Feminism and the Media

This module critically examines the media through a feminist and gendered perspective. It considers how women, 'femininity' and women's issues are constructed in the media across a variety of cultural contexts. It introduces theories and approaches with which to analyse a variety of media including newspapers, magazines, and social media. Students will comparatively analyse traditional and social media from a feminist, intersectional, and postcolonial perspective. They will consider the role of the media in both perpetuating, but also challenging, normative ideas about gender. The module draws on a variety of case studies. Topics include LGBTQI+ identity, activism, and the body.

20 credits

Radio and Development

Radio plays a crucial role in development. It is the main source of information in many countries in the Global South and obtaining factual, independent and timely information allows listeners to make informed decisions, promoting empowerment and democracy. This module focuses on, and engages with, the role of radio in development. It examines theoretical discussions and also practical applications used, and sometimes misused, by radio and development agencies internationally, during conflicts and pandemics and the challenges they encounter culturally, politically, economically, legally and institutionally. It brings together practical skills (radio production) and theoretical understandings.

20 credits
Guided Module Choice
You must choose one module from either this list or the 'optional modules B' list above.
Decolonising Geographies

This module examines Indigenous geographies through Indigenous storytelling and film as a way to understand the need to decolonise geography. It examines how race, racism, Indigenous rights, settler colonialism, settler responsibility, white supremacy, land rights, dispossession and genocide shape geographies of place, space and landscape, as well as more affirmative visions of Indigenous futures. Topics covered include geographies of identity, emotions, memory, racism, colonialism, gender, landscape, and visual representation. The aim of this module is to centre Indigenous narratives, voices and knowledge to understand geography differently while simultaneously critiquing the current whiteness of academic geographical discourse. Trigger warning - this module engages with potentially distressing and challenging themes of rape, murder, abuse, loss and violence.

20 credits

Global Justice

What are the demands of justice at the global level? On this module we will examine this question from the perspective of analytic Anglo-American political philosophy. We will start by looking at some debates about the nature of global justice, such as whether justice demands the eradication of global inequalities. We will then turn to various questions of justice that arise at the global level, potentially including: how jurisdiction over territory might be justified; whether states have a right to exclude would-be immigrants; whether reparations are owed for past international injustices such as colonialism; and how to identify responsibilities for combatting global injustice.

20 credits

Whiteness, Power and Privilege

This unit explores the importance of studying whiteness in order to understand racism as a system of power relationships. It explains why the construction of whiteness has become a key focus in debates about race and ethnicity and examines critically some of the key themes to emerge in this field of study. This includes exploring the historical origins of 'white studies' and assessing representations of whiteness in literary and visual culture. It also includes exploring the racialised, classed and gendered boundaries of whiteness by examining, for example, the socially and politically constructed categories of 'white trash' and the 'chav'.

20 credits

Intimacy and Personal Relationships

The module explores approaches to theorising and studying intimacy and personal relationships. Beginning with the Individualisation thesis and its critics, the module will go on to explore recent moves towards conceptualising personal relationships in terms of embeddedness, relationality, intimacy and linked lives. Students will also explore a range of substantive topics within the field including memory, genealogy, material culture and home, marriage and sexuality, responsibility and care, and friendship.

20 credits

Digital Identities

This module explores how gender, age, race, class and other identities are being reimagined in what various commentators have called a 'social media age. It provides students with an understanding of social media platforms roles in peoples identity negotiations, examining users social media identities in different global contexts, and paying close attention to the intersections between different identities. It reviews debates about identity formations from the earliest digital media moments and considers contemporary concerns, such as: anonymity and agency; selfies and sexting; censorship, resistance and collective identities; social media fandoms; masculinity and gaming.

20 credits

Digital Marketing: Culture, Consumption, Control

This module examines the sociology of digital marketing. It situates the emergence of data-driven marketing within a broader social history of marketing practices and discourses. Students will learn to critically understand the social implications and power dynamics of digital marketing and their impacts on everyday media environments.

20 credits

Queer Theory and the Media

This module introduces queer theory and discusses the role of different media for how gender and sexuality are constructed, represented and expressed. We will trace activist and academic origins of the word 'queer' and explore queer (self-)representations in mainstream and alternative media such as newspapers, films, zines, blogs, social media and dating apps. We will also look into how those representations promote or challenge the binaries of male versus female, masculine versus feminine, and heterosexual versus homosexual as well as how they travel around the world and promote particular understandings of gender and sexuality transnationally.

20 credits
The content of our courses is reviewed annually to make sure it's up-to-date and relevant. Individual modules are occasionally updated or withdrawn. This is in response to discoveries through our world-leading research; funding changes; professional accreditation requirements; student or employer feedback; outcomes of reviews; and variations in staff or student numbers. In the event of any change we'll consult and inform students in good time and take reasonable steps to minimise disruption.
Learning and assessment
Learning
Practical journalism: you'll gather video, audio, interviews and copy from around the city, preparing the content using our professional-quality editing suite, newsrooms and broadcast studios.
Seminars and lectures: learn journalism ethics, law, history and critique through our lecture and seminar programmes.
News days: All your skills will be put to the test on our news days, where you'll play your part in a simulated newsroom environment to find, write, proof and publish real stories for our live news website.
Our staff include professional journalists with many years of experience in radio, TV, newspapers, magazines and digital media. They also include academic researchers with big reputations for their work on journalism safety, freedom of expression, media law and ethics, political communication, and much more.
Assessment
You'll be assessed in a number of ways, including both exams and coursework you produce in response to theory-based modules, and through the news stories and broadcasts you create as part of the practical elements of the degree. There'll also be the opportunity to sit exams for the NCTJ diploma qualification.
Programme specification
This tells you the aims and learning outcomes of this course and how these will be achieved and assessed.
Entry requirements
Standard offer
The A Level entry requirements for this course are:
ABB
A Levels + additional qualifications BBB + B in the EPQ
International Baccalaureate 33
BTEC Extended Diploma DDD in a relevant subject
BTEC Diploma DD + B at A Level
Scottish Highers AAABB
Welsh Baccalaureate + 2 A Levels B + AB
Access to HE Diploma Award of Access to HE Diploma in a relevant subject, with 45 credits at Level 3, including 30 at Distinction and 15 at Merit
Access Sheffield offer
The A Level entry requirements for this course are:
BBB
A Levels + additional qualifications BBB + B in the EPQ
International Baccalaureate 32
BTEC Extended Diploma DDM in a relevant subject
BTEC Diploma DD + B at A Level
Scottish Highers AABBB
Welsh Baccalaureate + 2 A Levels B + BB
Access to HE Diploma Award of Access to HE Diploma in a relevant subject, with 45 credits at Level 3, including 24 at Distinction and 21 at Merit
English language requirements |
You must demonstrate that your English is good enough for you to successfully complete your course. For this course we require: GCSE English Language at grade 4/C; IELTS grade of 7.5 with a minimum of 7.0 in each component; or an alternative acceptable English language qualification
Department of Journalism Studies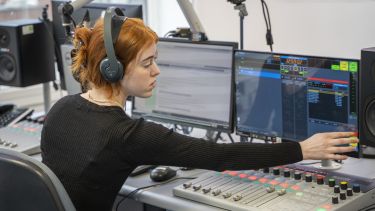 Our department is recognised within industry as one of the best places to train as a journalist. We regularly place in the top 5 of all three league tables: for 2023, we are #2 in the Complete University Guide, #4 in Times Education and #5 in the Guardian University Guide.
But it isn't all about rankings and statistics. Study with us and you'll learn vital practical skills, including how to spot big stories and write sparkling copy; edit audio, video and podcasts; become an expert in social media; and even ace those shorthand exams.
As an elite Russell Group university, you'll also discover how journalism is part of an epic social narrative about right and wrong, liberty and democracy, war and peace - about the life stories of people, societies and entire continents.
That's why our graduates go on to become award-winning journalists for the BBC, ITV, Reuters, the Press Association and more.
Support and wellbeing
We also have a dedicated student support staff and a personal tutor system in place within the department to help you deal with any issues. If you need support regarding your workload, fees and finance, disability services or your mental health and wellbeing, there is always someone on hand to help. 
Where you'll study
Journalism at Sheffield extends beyond the university. As well as seminars and lectures on campus and production work in the newsrooms and Broadcast Zone, you'll be assigned your own patch of the city to report from. This means building up local contacts to help you hunt down stories, and there's court reporting too.
We'll also help you find a work experience placement so you can sharpen up your skills in a real-life newsroom or other professional communications setting.
Facilities
The new Faculty of Social Sciences building will co-locate many of our departments to promote interdisciplinary excellence in research, learning and teaching and help us to lead the way in addressing important societal challenges. 
The building is set to be complete in 2023, complete with state-of-the-art lecture theatres, broadcast facilities and editing suites.
Department of Journalism Studies
Why choose Sheffield?
The University of Sheffield
  Number one in the Russell Group
National Student Survey 2023 (based on aggregate responses)
  92 per cent of our research is rated as world-leading or internationally excellent
Research Excellence Framework 2021
  Top 50 in the most international universities rankings
Times Higher Education World University Rankings 2022
  Number one Students' Union in the UK
Whatuni Student Choice Awards 2022, 2020, 2019, 2018, 2017
  Number one for teaching quality, Students' Union and clubs/societies
StudentCrowd 2023 University Awards
  A top 20 university targeted by employers
The Graduate Market in 2023, High Fliers report
---
Department of Journalism Studies
No 1 in the Russell Group for teaching on the BA Journalism Studies course
National Student Survey 2021
2nd for Media and Communication
Complete University Guide 2023
5th for Journalism
The Guardian University Guide 2023
4th for Communication and Media Studies
The Times Good University Guide 2023
Graduate careers
Department of Journalism Studies
Our graduates are highly regarded by employers and work right across the media. Many begin on local newspapers and radio as junior reporters and the best move up to national or international level in roles such as editor or digital media editor. Some specialise in social media or video production.
Recent graduates are working for the BBC, Daily Mail, The Guardian, Press Association, Oxford University Press, magazines, radio and digital media all over the world. Some go into public relations, teaching and other areas where communication skills are at a premium.
Placements and study abroad
Fees and funding
Fees
Additional costs
The annual fee for your course includes a number of items in addition to your tuition. If an item or activity is classed as a compulsory element for your course, it will normally be included in your tuition fee. There are also other costs which you may need to consider.
Additional funding
Details of funding awards and what the fees cover can be found on the department site.
Visit us
University open days
We host five open days each year, usually in June, July, September, October and November. You can talk to staff and students, tour the campus and see inside the accommodation.
Subject tasters
If you're considering your post-16 options, our interactive subject tasters are for you. There are a wide range of subjects to choose from and you can attend sessions online or on campus.
Offer holder days
If you've received an offer to study with us, we'll invite you to one of our offer holder days, which take place between February and April. These open days have a strong department focus and give you the chance to really explore student life here, even if you've visited us before.
Campus tours
Our weekly guided tours show you what Sheffield has to offer - both on campus and beyond. You can extend your visit with tours of our city, accommodation or sport facilities.
Apply
The awarding body for this course is the University of Sheffield.
Recognition of professional qualifications: from 1 January 2021, in order to have any UK professional qualifications recognised for work in an EU country across a number of regulated and other professions you need to apply to the host country for recognition. Read information from the UK government and the EU Regulated Professions Database.
Any supervisors and research areas listed are indicative and may change before the start of the course.