I design new products and features and solve issues and bugs raised by customers

Ronak Sharma
Software Engineer, Capital One
Computer Systems Engineering with an Industrial Placement Year MEng
2020
Ronak is a graduate Software Engineer with the credit card company Capital One.
Ronak graduated with an MEng in Computer Systems Engineering with a Year in Industry from the Department of Automatic Control and Systems Engineering and has been on the software graduate scheme at Capital One. 
"I am on the graduate scheme which gives me with the opportunity to rotate and learn about different areas of technology such as back-end and front-end (web, mobile) development."
"My responsibilities in each role usually revolves around adding new features to the current products, solving issues and bugs raised by customers and designing new products based on customer feedback or new regulations."
"My day starts off with a team discussion where we share progress/challenges towards a common goal. The rest of the day then usually revolves around the various aspects related to programming and working on individual work. At times I will be paired with someone on the team to solve a problem."
"We usually have other meetings with various stakeholders if their advice is needed. We also have various fun activities that provide opportunities to socialise with the team. We use tools such as VS Code and IntelliJ for programming and other tools bespoke Capital One."
During his course, Ronak took a Year in Industry with Rolls-Royce as a Systems Engineer Intern. 
"This internship provided me with a great opportunity to apply systems engineering skills to practical problems, enabling me to break down complex problems into smaller pieces. My internship also involved working with various stakeholders and at times seeking their advice. This experience also improved my soft skills such as presenting and communication skills which I have used at Capital One."
When studying the course, Ronak learnt different skills and knowledge that he uses in his job.  
"Approaching problems from a systems engineering perspective has been a great asset in getting up to speed. Such as using a methodological approach has allowed me to consider various aspects of a problem before jumping straight into the solution. This ability to think, break down problems has been really helpful in solving complex issues at work."
"The ability to take risks and challenge the norms is also something that I have learned from my time in Sheffield. Many times you face such challenges and having prior experience of similar experiences at University was valuable in tackling such situations at work."
"With the future technology moving towards programming and controlling machines autonomously, I was always drawn towards the Computer Systems Engineering degree because it offered a mix of both programming and electronics. The University of Sheffield was the only university offering such an integrated course."
"During the intro week in my first year, a Lego Robot competition was organised which introduced me to my course and gave me the opportunity to make new friends. There were also talks from industry and coursework based on working on real systems. As an overseas student, this really helped me to adapt to this new education system."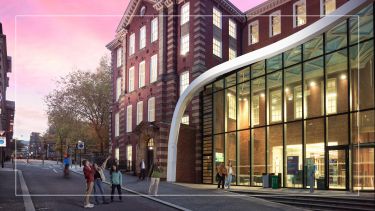 Visit us
Discover what sets Sheffield apart at our undergraduate open days on the Saturday 21 October or Saturday 18 November.