Undergraduate scholarships
We are very pleased to be able to offer financial assistance in the form of scholarships and bursaries to many of our undergraduate students.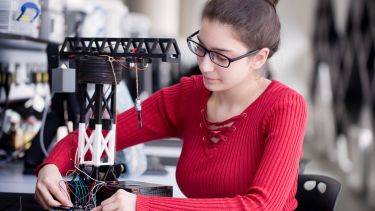 Available Home fee paying students entering in September 2023 who achieve AAA in their A-levels (or international equivalent). Undergraduate Academic Achievement Scholarships are distinct from the University Bursaries scheme for UK students and can be awarded on top of other bursaries you may receive from the University.
An Undergraduate Academic Achievement Scholarship is worth £3000. £2000 is paid after registration, with the second instalment of £1000 paid at the end of the first year, if a course average of 70% or more is achieved.
Applicants deferring entry are eligible for consideration for this award; payment will automatically be deferred until October 2024.
If you apply through UCAS for a place on one of our courses, we will send you more information about the entrance bursary scheme when we receive your application form.
If you would like further details please contact the department.
---
The scholarship of up to £3,000 will be awarded to Overseas fee paying students who exceed the academic conditions of our standard UCAS offer. Candidates who attain A level grades of A*AA or above (or the equivalent qualification in your country) will receive the Excellence Scholarship.
For full details, see the Engineering Excellence scholarship page.
---
To celebrate the excellence, courage and achievements of Amy Johnson, we are pleased to offer the Amy Johnson Scholarship to female Home fee paying students. 
Award*
£2,000 for candidates achieving A-Level grades of AAA or above (equivalent performance in alternative qualifications will also be considered)
£1,000 for candidates achieving A-Level grades of AAB (equivalent performance in alternative qualifications will also be considered)
To be eligible for this one-off payment, a female student must:
Commence your first-year undergraduate studies in the Department of Automatic Control and Systems Engineering in September 2023
Home fee paying students.
*This award is offered in addition to the Academic Achievement Scholarships
For more information please contact the department.
Amy Johnson

Amy Johnson began her studies at the University of Sheffield at the age of 19, her original ambition of becoming a teacher leading her to follow a degree in Economics. However, she also voluntarily attended regular Engineering evening classes, despite being the first woman to do so and facing strong opposition from the Engineering Professor at that time.

Amy's interest in all things aeronautical led to her gaining her pilot's license in July 1929, and in 1930 she became the first woman to fly solo to Australia. Another important achievement, after flying solo, was to qualify as the first British-trained woman ground engineer, the only woman in the world to do so at that time. Amy was determined to prove that women could be as competent as men in a hitherto male-dominated field, and from 1935 to 1937 she was the President of the Women's Engineering Society, a professional learned society and networking body for women engineers, scientists and technologists.

 The Amy Johnson Building, housing the department of Automatic Control and Systems Engineering, boasts a specially commissioned model of her Gypsy Moth aircraft installed in its foyer in honour of Amy. We would like all of our undergraduates to aspire to be like Amy: technically excellent, enterprising, and having the courage of her convictions.
---
Additional financial support from the University is available to help you pay for your studies.
Scholarships are available to help fund your study and enhance your learning experience, University Scholarship information can be found here. 
You'll find information on undergraduate finance, tuition fees, funding and bursaries on the Undergraduate Fees and Funding pages.
To help you calculate how much funding you could get towards your study and living costs, see our Student Funding Calculator.
A world-class university – a unique student experience
Sheffield is a research university with a global reputation for excellence. We're a member of the Russell Group: one of the 24 leading UK universities for research and teaching.