Off the Shelf - Festival of Words Sheffield | 谢菲尔德"走出书架"- 文字读写节
Off the Shelf Festival of Words, Previously Off the Shelf Festival of Literature, one of the largest literary festivals in the UK, is held normally in October every year, offers hundreds of diverse literary events to all ages.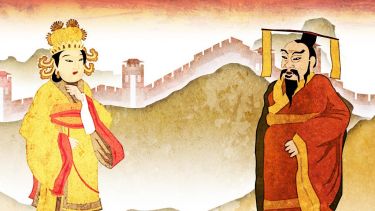 Off
---
Please note, due to the COVID-19 pandemic, the Off the Shelf at our CI is not offered.
Sheffield Confucius Institute and its affiliated Star Mandarin School, had been taking part in the Festival every year for 12 years.
---
2019, My 'River of Reading' – A family workshop on multilingual reading development
Time and Date: Saturday 19 October 2019, 10am
Place: LT3, Hicks Building, Hounslow Road, Sheffield S3 7RH
Free admissions. Refreshments provided at 11:45am.
Come and find out about "Rivers of Reading" as a means to discuss reading creatively within the family.
Hear about research on multilingual reading development, before you create your or your children's "River of Reading", exploring how they experience reading, what is important to them, and, if they are multilingual, how different languages and language abilities impact on their experience as a reader.
Suitable to families and children aged 7-14.
---
2018, From a tiny dream to a big world
Saturday 20 October 2018, 10:30am
Come and listen to stories "Flying Frog", let friendship make a big world go around. Get a pair of wings to your dream, flying high and far to China, sharing your own adventurous stories with new friends.
Listen to a story of the flying frog as he travels to China for an adventure. Followed by a writing activity for children to develop their own story.
---
2017, Journey to the West- Overcome 81 Battles on the Silk Road
Time: Saturday 1:00-2:30pm, 7 October 2017
Venue: Central Children's Library, Sheffield S1 1XZ.
Open to children aged 7-14 years old.
Children under 8 years of age must be accompanied by a parent or responsible carer.
Free admission and no need to book in advance.
Repeated:
Saturday 1:00-2:30pm, 14 October at Highfield Library, Sheffield, S2 4NF
Saturday 1:00-2:30pm, 21 October at Chapeltown Library, Sheffield, S35 1AE
Saturday 1:00-2:30pm, 28 October at Stocksbridge Library, Sheffield, S36 1DH
Saturday 1:00-2:30pm, 28 October at Firth Park Library, Sheffield, S5 6QQ
Saturday 1:00-2:30pm, 28 October at Crystal Peaks Library, Sheffield, S20 7PH
The China's favourite Monkey King is "taking" us to a Journey to the West. Possessing supernatural Daoist skills, the Monkey, with 3 other pilgrims, accompany the Monk Tang to get Buddhist scriptures from India. The journey of actions captivates us with his bravery, courage, loyalty and wisdom.
The story is based on an actual journey undertaken by a monk Tang Xuanzang in the 7th century across the western China and Central Asia to India, to bring the original Buddhist scriptures back to China.
Fictionalised in the 16th century, Journey to the West, one of the greatest classical Chinese novels, depicts a fantasy adventure: the Monkey King, along with three other pilgrims - Pigsy, Monk Sha and White Dragon Horse - overcome 81 calamities in the form of supernatural phenomena, accompanying the Monk to reach the goal.
Born from a stone egg, the Monkey progresses to a King and achieves supernatural Daoist skills. Mischievously, causing havoc to both heaven and the underworld, the Monkey is incarcerated beneath the Mountain of the Five Elements by the Buddha.
Only released by the Monk Tang, he embarks on a journey of actions and spiritual lessons, showing his loyalty and wisdom.
---
For more information, contact:
email: confucius@sheffield.ac.uk
Events at the University
Browse upcoming public lectures, exhibitions, family events, concerts, shows and festivals across the University.