Sino-English Club- language and cultural exchanges | 汉英俱乐部- 语言和文化交流平台
Membership is free and open to all. Regular meetings are held at ALS GONGCHA every Tuesday, 6:30pm—8:30pm, University Semester dates, Week 1 - Week 12.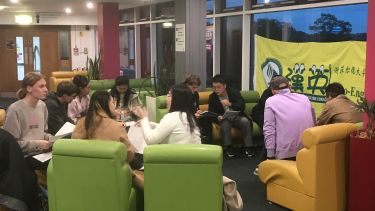 ---
Sino-English Club, Tuesdays 6:3pm0-8:30pm,  ALS Gongcha 贡茶 , 10 Eyre St, Sheffield City Centre, Sheffield S1 4Q. If you are interested in taking part, please contact confucius@sheffield.ac.uk, or follow SEC Facebook. 
---
About the Sino-English Club
The Sino-English Club (SEC) began as a language and culture exchange activity from students for students in March 2007.
The idea was born following the meeting of a group of SEAS students with CSSA representatives at the opening ceremony of the Confucius Institute in January 2007 – the setting could hardly have been more appropriate.
We are very glad it has been such a successful project so far, and are looking forward to welcoming new and familiar faces this semester in a pleasant language exchange environment.
Our aims
Provide opportunities for those interested in learning either Chinese or English to practice their target language and learn more about the target culture.
Detailed activities
Regular meetings at ALS Gongcha, Tuesday 6:30pm-8:30pm.
Outdoor activities and cultural events, such as hiking, dinner parties and pub meet-ups.
Festival activities, celebrating both Chinese festivals and English festivals, such as making Chinese dumplings at Spring festival and making pancakes on Pancake day and so on.
Finding a Language learning partner.
Register for a Language Learning Partner

The SEC will assist your learning of a language and finding a language partner.

What is language partner? Two people either meet in person (face-to-face) or learn via email, phone or other mediums (eTandem and distance Tandem). The learning can be supported by various materials and methods, such as work sheets, textbooks or simply informal conversation. The time is divided evenly between two people.

Suggestions for where to meet: You could use glass-roof open areas at the Basement of Bartolome House, School of Law, Winter Street, Sheffield S3 7ND, after work time, e.g. at 5:30pm, if the English-speaking partner needs to attend a CI's course starting at 6:30pm. Alternatively, you could meet at the Students' Union or other places around the university.

To register your interest email: confucius@sheffield.ac.uk

View SEC activities

SEC meets on a weekly basis every Tuesday between 6:30pm to 8:30pm in ALS Gongcha. The purpose of our Tuesday meetings is twofold: they are meant to help improving the participants´ language level, and also to provide an occasion for exchanging opinions with someone of a different cultural background.

Chinese Christmas celebrations

During the festive season in December, SEC organises Karaoke, where members of Chinese origins sing English songs, while members of English origins sing Chinese songs.

A party may be held in Chinese style. Chinese cultural activities are organised to make Christmas greeting cards, Christmas trees and the festive food. Two sets of Christmas quiz are played by English speakers and Chinese speakers.

Peak Action - SEC trips to the Peak District

In the Spring semester, SEC organises monthly afternoon- or day trips on weekends. These trips are aimed at providing a different language learning environment for SEC members, as well as an occasion to spend more time together with SEC friends.

Stage performances

We occasionally organise bigger events with the purpose of a more constructive cultural exchange, e.g. in the form of on-stage performances or fundraises.

For regular updates follow our Facebook page.
---
SEC Management Committee Members, 2022-2023
Miss Qian Li & Mr Jiaxing Du (from the Confucius Institute at the University of Sheffield, SCI)
Chinese Students and Scholars Association (CSSA)
School of East Asian Studies (SEAS)
Membership is free. To join the SEC mailing list, or to enquire about particular SEC activity, email: confucius@sheffield.ac.uk
---
What our members say
All the members are quite nice and friendly, especially the teacher. I personally think this is a really meaningful society. It provides us with opportunities to share ideas as well as to learn about the culture.

Christina Liu
---
For me, the Sino-English corner is a place to discuss Chinese culture and society (both contemporary culture and ancient culture) and a society to meet board game friends.

Jin Yan
---
I made many Chinese friends in the Sino-English corner, including the most important people in my life. I also have the chance to speak more Chinese language.

Ryan Blackett
---
I enjoy every minute in the Sino-English corner. Everyone is so polite and helpful. It is one of the things which I look forward to the most each week.

George Hunter
---
SEC has helped me keep on top of my oral Chinese since I finished studying last year, but more importantly I've met a lot of great people, many of whom have become good friends.

Dan Johnson
---
Many thanks to all who have contributed here by sharing their opinion about the SEC! We always welcome your feedback.
Events at the University
Browse upcoming public lectures, exhibitions, family events, concerts, shows and festivals across the University.