Mandarin Summer School for Children | 儿童暑期班
Since 2012, the Sheffield Confucius Institute has been organising Summer School for local school-age children, exploring Mandarin Chinese language and incorporating STEM projects.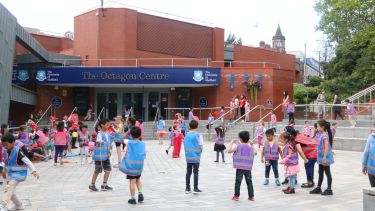 Previously
Online Mandarin Summer School 2020
Summer Care, Fun, Inspired and Aiming Higher!
Let's talking in Chinese; exploring Chinese Characters; retelling stories; singing songs; playing games and engaging STEM activities.
Open to all aged 5-16.
Being able to speak Mandarin is NOT a prior requirement.
Two sessions a day, 1h/session, Monday-Friday, 3 - 15 August 2020.
Fees: £50 
Open three groups depending on the number of children registered and their ages.
Group 1, for children at KS1, open at 9am and 1pm;
Group 2, for children at KS2, open at 10:15am and 2:15pm;
Group 3, for children at secondary schools and above, open at 11:30am and 3:30pm.
Real-time classrooms involve presentations, demonstrations, interactions and home assignments.
Teachers: experienced, friendly, empathetic and passionate.
Children: stimulated, engaged and peer-collaborated. Maximum 15 children/class.
Parents: ensured online safety at home and encouraged to join in themselves.
Please prepare a PC, laptop or iPad device. We will use the University approved teaching software and send you connection links.
For more information, please contact:
Email: starschool@sheffield.ac.uk
Tel: +44 784 626 2870
Events at the University
Browse upcoming public lectures, exhibitions, family events, concerts, shows and festivals across the University.