Training programmes for scholars, students, teachers and business professionals.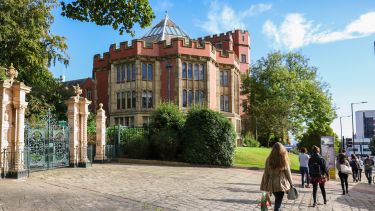 ---
Please note, due to the ongoing COVID-19 pandemic, details of further training programmes offered by the Sheffield Confucius Institute are yet to be confirmed.
---
The Confucius Institute (CI) hosted 'Applied Linguistics and Language Policy Studies Training Programme' for three consecutive years in September—December, from 2017—2019.
The Training Programme is funded by China Scholarship Council. 30 Chinese scholars and policy makers are sent by Ministry of Education in China.
The aim is to cultivate linguistic specialists, who are urgently needed in China, and to serve the development of the linguistic industry. Areas involved in the programme include international language policy and planning, national language ability training model and assessment criteria, the relationship between common languages and national languages, protection of endangered languages and language cultures as well as British cultural studies.
---
The Institute hosted 'Cultural and Language Immersion (CALI) Summer School' for international students who majored in Arts and Humanities, in the summers of 2018 and 2019.
The programme lasted for four weeks and explored: 
UK history
architecture
arts
English language and literature
culture and etiquette
politics
media
business
education and daily life.
The main features of the programme were:
Homestay at English family with meal plans.
Lectures and seminars given by either academics, researchers or respective field experts.
Field trips and expeditions to local Yorkshire attractions, Cambridge, Wales and Scotland, to experience British cities and towns, literature and history.
Interaction with English students.
Journal writing and presentations assessed.
---
7 July—3 August 2019
Open to undergraduates at Xinya College, Tsinghua University, the programme outcome is to experience family life, student life and work life in the UK, acquiring social etiquettes and customs of the language and culture.
The programme consists about 15 hours of talks and lectures, and about 8 hours of field trips per week. There are five main strands:
Homestay with meal plans
Field trips about English literature and history
Interaction with English students
Talks and lectures in Engineering Design
Visits to local businesses
---
The CI is about to host a training in Innovation and Management for Business Professionals.
---
A series of teacher training and seminars is organised on an on-going basis, focusing on Chinese language teaching methodology.
---
In order to promote exchanges and cooperation on Chinese language teaching, Hanban has set up "Overseas Chinese Teacher Training Programme", which is a good opportunity for foreign Chinese language teachers to further learn Chinese language and experience Chinese culture. Hanban will provide funding during their visit to China.
The main content of the program includes: Chinese knowledge, Chinese teaching series courses, Chinese teaching theories and methods series course, applied series course, Chinese culture practice courses, and teachers exchange courses.
If you are interested, you can apply for the training program in China through the CI.
Overseas Chinese Teacher Training, Hanban (in English)
---
For more information, contact:
email: confucius@sheffield.ac.uk
A world top-100 university
We're a world top-100 university renowned for the excellence, impact and distinctiveness of our research-led learning and teaching.