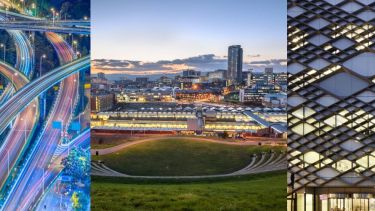 by Keith Burnett
Chinese leaders are willing to fund grand-scale investments in infrastructure that will connect up Asia, and to bring a new age into being (Source: Getty).
The Computer Electronics Show earlier this month was flooded with innovations built by hundreds of companies carrying the "Shenzhen" marque – referring to the hotbed of Chinese innovation in the Guangdong Province, which international trade secretary Liam Fox made a priority on his new year visit to China.
This is what China is calling a "New Journey, New Era", and it is tied up with the common mission of the Confucius Institutes, which gathered last month for their annual meeting to teach Chinese language and culture and help businesses keen to work in this rapidly developing market.
This is how a great nation will become yet greater – whether the world is ready for them or not.
Those whose only image of China is the Terracotta Warriors in Xi'an may not be familiar with this modern Empire with a global reach.
I learned vital lessons even before I arrived at the Confucius Institutes Summit, having traveled nearly 1,000 miles to Xi'an from a freezing Beijing by a late high-speed train – just a fraction of the thousands of miles of high-speed track China has built. As the digital display showed speeds of well over 200km an hour, I barely felt a judder.
Then, at the Council meeting chaired by the vice-premier, I listened to the head of a university in Thailand tell how his Confucius Institute was teaching local people Chinese language and culture.
Why? Because Thailand knows that the Chinese high-speed train tracks are coming their direction, and that Thais will soon be able to travel from Bangkok up to Kunming, in Southern China, and on to anywhere in that great country where they want to travel or do trade.
As the American pioneers once knew, the coming of the railway meant one thing - jobs. Thais have realised they will be part of an enterprise that exceeds anything that the world has seen, and they want to be part of the growing prosperity that this will bring.
This Chinese train, along with the rapidly growing network of regional airports, will realise President Xi Jinping's dream of making any part of that great country, however distant and however modest, less than eight hours travel away. Chinese leaders are willing to fund grand-scale investments in infrastructure that will connect up Asia, and to bring a new age into being. They will succeed and the world will change.
As a Brit, I have seen a legacy of empire but, halfway across the world, a new age is dawning. What I saw at the formal opening ceremony of the Confucius Institutes conference could provide a clue about a changed global order.
After the usual speeches, a blind young African student, wearing a hijab, was led up to the podium. She was a student at Khartoum University and told the Conference, in flowing Mandarin, why she studies Chinese.
With a liking for languages as a child, her father encouraged her to learn Mandarin so that she could get a job with the Chinese companies in the Sudan. As she was led back from the stage, the Chinese vice-premier decided to get up and thank her personally. She gave the delicate African woman a hug.
I was in the seats at the front and could see just how she held her: it was no perfunctory or merely affectionate squeeze, it was decidedly gentle and loving. Liu Yandong is a Chinese politician who had committed her time and efforts to the teaching Chinese, embracing a representative of a future world.
There is a tale about George Washington Plunkett, a politician in the early days of the United States – one which I have always felt got to the heart of what it meant to share a patriotic identity. Asked what it would take to make a newly arrived immigrant on the Lower East Side docks a true American, the experienced politician answered: "Do you give them a copy of The Bill of Rights? No! You give them a job."
That is how the Chinese are building an empire. From the ancient capital city of Xi'an to Africa, and right across the Belt and Road, China is extending its trade and its influence. It is a new Rome and we are witnessing the birth of the Pax Sinica.
Like all great powers, it will have choices ahead. It is my sincere hope that it chooses, in the words of President Xi's start-of-the-year address, "to always be a builder of world peace".
---
"帝国"时代重返——但它具有中国特色
凯思·博内特
本月初,数百家"深圳制造"公司的创新产品荟萃了2018CES国际消费电子展。深圳作为中国创新的摇篮,是英国国际贸易大臣福克斯(Liam Fox)新年访华的首个重点城市。
这就是中国"新征程,新时代"的具体体现,也与上个月在西安举行了全球大会的孔子学院使命相连——传播中国语言和文化,助力渴望在这个快速发展市场有所作为的企业。
一个大国正在以此种方式变得更加强大——无论世界是否已经作好准备。
那些对中国的印象还停留于西安兵马俑的人,很可能对当今这个具有全球影响力的"帝国"感到陌生。然而,我在赶去参加孔子学院大会的旅途上已经对此深有体会了。那时,我乘坐夜间高铁,从天寒地冻的北京疾驰向近千英里之外的西安。当屏幕上显示时速已远超200公里时,我却感觉不到列车的丝毫抖动,而这仅仅是中国四通八达的高铁网络的一小段。
后来,在刘延东副总理主持的会议上,我仔细聆听了泰国一所大学的校长讲述了该校的孔子学院是如何教授当地人中国语言和文化的。为什么泰国人如此重视?因为他们知道中国的高铁正在通往泰国,泰国人很快便能从曼谷做火车抵达中国西南重镇昆明,从而得以深入中国的任何一个省市旅行或贸易。当年美国的开拓者们知道,铁路修通便会带来一样东西:工作。泰国人如今已意识到,他们将参与一项世界前所未见的事业,将会带来巨大的繁荣。
中国的高铁和飞速发展的地区性空港建设将会将习近平主席的设想变为现实,即用最长八个小时的旅行距离将中国任意两个地方连在一起。中国领导人愿意大规模投资联通整个亚洲的基础设施建设,打造一个新的时代。他们一定能够成功,世界也将由此改变。
作为一名英国人,我目睹了"帝国"的遗产,而在地球的另一端,一个新时代正在开启。从我在全球孔子学院大会开幕式上的所见所闻中,便可一窥全球秩序的变化。
常规演讲结束后, 一名披着伊斯兰头巾的非洲盲人少女被带进了会场。这位来自喀土穆大学的学生用流利的汉语向与会代表讲述了自己为何要学这门语言。她从小热爱语言,父亲便鼓励她学习汉语,以便将来在苏丹的中国公司里找一份工作。当她将被带下舞台时,刘延东副总理决定起身向她表达感谢,于是她给了这个非洲小女孩一个热情的拥抱。
当时我就坐在前排,看到了这个拥抱的过程。完全不是敷衍了事,也不是大力一搂,刘副总理的拥抱非常温柔,充满关爱。刘延东,这位为汉语传播事业殚精竭虑的副总理,她拥抱的是下一代的世界。
我想讲一个关于美国早期政治家普朗基特(George Washington Plunkett)的故事,这个故事常常使我感到能够直击国家身份认同问题的要害。有人问,怎么做才能让新移民成为真正的美国人,这名资深政治人物回答道:"难道要给他们一本《权利法案》吗?不!是给他们一份工作。"
中国人如今正是以这种方式构筑"帝国"。无论是从古都西安到非洲,还是穿越"一带一路",中国正在扩大自己的贸易和影响力。这是一个新的罗马帝国,而我们正在见证"中式和平"(Pax Sinica)的诞生。
所有的大国都必须面临未来道路的选择。我真诚希望中国能像习主席在新年演说中说的那样"始终做世界和平的建设者"。
来源: 城市上午(City A.M.)
2018年1月28日
http://www.cityam.com/279612/age-empire-returning-and-has-chinese-characteristics
Flagship institutes
The University's four flagship institutes bring together our key strengths to tackle global issues, turning interdisciplinary and translational research into real-world solutions.