Brogan Mathieson and Juliette Odolant both win prizes for Sheffield CI at the 20th Chinese Bridge Competition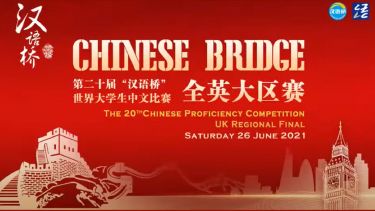 Brogan Somer Mathieson 苏墨怡 and Juliette Eileen Odolant 欧明云 have been awarded the Third Place prize and Most Knowledgeable prize, respectively, in the UK Regional Finals of the 20th Chinese Bridge Competition 2021.
---
This year's competition was streamed via Zoom, as well as other online platforms including Facebook and Youtube.
The opening ceremony of the competition began with a welcoming speech by Mr Zheng Zeguang, the newly appointed Chinese ambassador to the UK and a number of other high profile guests, including Kate Ewart-Biggs, Interim Chief Executive of the British Council and Dr Yuan Boping, Director of Oriental Studies & Asian and Middle Eastern Studies at the University of Cambridge.
After the opening speeches, ten contestants representing universities around the UK took to the stage to showcase their impressive performances.
The contestants impressed the judges with their Chinese language skills, musical performances, artistic abilities and cultural knowledge.
The competition was split into two separate rounds, designed to test and challenge the ten contestant's abilities. While the first round required contestants to demonstrate their Mandarin speaking skills in speeches, the second round gave contestants the opportunity to share their knowledge of Chinese culture and talent through a variety of performances.
---
The Contestants
Brogan Somer Mathieson
Brogan Mathieson (苏墨怡) is a third year student studying Chinese and Japanese at the University of Sheffield. Being able to speak not one, but two additional languages is an impressive feat and we are certainly in awe of Brogan's language abilities!
---
Juliette Eileen Odolant
Juliette Odolant (欧明云), a second year student of Chinese Studies at the University of Cambridge and Chinese language student at the Confucius Institute at the University of Sheffield. During the competition, she demonstrated her impressive Mandarin Chinese proficiency and knowledge of Chinese culture.
---
The Winning Performances
Brogan Somer Mathieson
Brogan demonstrated her strong Mandarin language skills during her 3-minute speech entitled 语汇故事 天下一家 "Vocabulary Story, One World". Brogan explained the various ways in which hobbies, which include reading, watching television, listening to music, all have one thing in common; they all narrate and record everyday life.
Stories, storytelling and the language used within them can overcome time & space and is passed down from generation to generation. Alongside this fascinating speech, Brogan confidently and correctly answered the round of questions on Chinese language and culture.
In addition, during the Artistic performance Brogan impressed everyone with her wonderful singing voice with a cover of 多远都要在一起 "Long Distance" by Chinese singer G.E.M. Due to her hard work and effort, Brogan was awarded the coveted 3rd place prize.
Brogan's 3-minute speech: 语汇故事 天下一家
Brogan's Vocal Performance: 多远都要在一起
Juliette Eileen Odolant
During her 3-minute speech entitled 天涯若比邻 - 一语言将我们联系在一起, "Close in spirit although far away: One language connects us", Juliette spoke calmly yet confidently and impressed the judges with her fluency in the language, especially having only started learning two years ago!
For her Artistic performance, Juliette revealed her drawing skills in a traditional Chinese painting performance. The judges were so impressed with Juliette's determination and effort during her performances; Juliette was awarded the impressive Most Knowledgeable award.
Juliette's 3-minute speech: 天涯若比邻 一语言将我们联系在一起
Juliette's Artistic Performance: 中国国画
Thank you to our teachers again for their hard work and our contestants for their winning performances!
Events at the University
Browse upcoming public lectures, exhibitions, family events, concerts, shows and festivals across the University.