Celebrating 10 years of the Confucius Institute at the University of Sheffield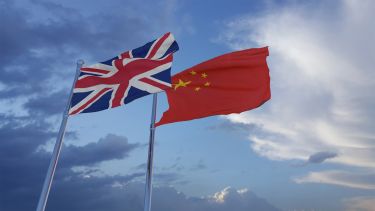 The event was attended by senior representatives including Chinese Ambassador to the UK Liu Xiaoming, Paul Blomfield MP and President and Vice-Chancellor of the University of Sheffield, Professor Sir Keith Burnett.
The event, hosted at the University of Sheffield, included speeches, the unveiling of a commemorative plaque, an exhibition of Confucius Institute achievements and performances from the Chinese Students and Scholars Association.
Sheffield Confucius Institute is seen as one of the UK's leading centres of China and UK collaboration. It has twice won global Confucius Institute of the Year (2010, 2015), been named a 'Model Confucius Institute' in 2014, facilitated trade delegations between Sheffield and China, hosted cultural events, and helped to introduce new China-focused programmes for students at the University of Sheffield.
The number of staff, students and Sheffield residents learning Mandarin through its programmes has grown from 143 in 2007 to over 2800 in 2017.
Professor Sir Keith Burnett, President and Vice-Chancellor at the University of Sheffield and Chair of Sheffield Confucius Institute was awarded the Individual Performance Excellence Award in 2014 and 2016 for his work promoting the Sheffield Confucius Institute. Opening the event, he said: "Today we are celebrating a decade of close friendship and partnership between our University and city of Sheffield with the People's Republic of China. But we are also acknowledging the tremendous achievements of our Model Confucius Institute over that time.
"Over the past 10 years, I have seen China transformed and I am truly delighted that in so many ways China is looking outwards, seeking to be a global leader and a bridge between nations in key areas such as the environment and international trade. I am also very proud of the work we are doing together in key areas of need for both countries, including advanced manufacturing, digital innovation, low-carbon technologies and health.
"I would like to thank all those who have worked so hard to make the Sheffield Confucius Institute such a force for good, and I give you my personal commitment that we will continue to press ahead for the good of the people in both our great nations."
Speaking about China-UK relations at the celebration event, Ambassador Liu Xiaoming said: "It is my pleasure to be here at the University of Sheffield to celebrate 10 years of achievement. I want to give my warmest congratulations on behalf of the Chinese Embassy.
"The University of Sheffield encompasses the ideals of Confucius in its commitment to education in the wider community and to learning and teaching.
"The innovative ways in which Sheffield Confucius Institute teaches language and culture helps to build stronger ties as well as the extensive cooperation between Sheffield and Chinese universities in new areas such as the Shanghai Space industry, China's space station programme."
---
Sheffield is a city which is truly international and which has welcomed the Chinese community and Chinese students for very many decades.

On behalf of the city and communities of Sheffield, I would like to express my sincere thanks to Sheffield Confucius Institute for all it has done to build understanding and opportunity between the people of Sheffield and China.

Paul Blomfield MP

Speaking on behalf of Sheffield
---
As part of his visit, Ambassador Liu Xiaoming was also hosted by the University of Sheffield's Advanced Manufacturing Research Centre to learn about its partnership with the Shanghai Academy of Spaceflight Technology on the Chinese space programme.
---
谢菲尔德大学孔子学院成立十周年暨示范孔院揭牌仪式成功举办​
当地时间9月27日,谢菲尔德大学孔子学院成立十周年暨示范孔院揭牌仪式在谢菲尔德大学福斯楼(Firth Court)举行。驻英大使刘晓明及夫人胡平华、谢菲尔德大学校长凯斯·博内特爵士、英国国会议员保罗·布卢姆菲尔德(Paul Blomfield)、孔子学院总部副主任赵国成、驻英使馆教育公参王永利、北京语言大学副校长董立均、南京大学校长助理范从来等出席活动。
活动以"谢菲与中国"图片展开场,十年来孔院作为桥梁,为谢菲尔德与中国在教育、文化、工业、商业、医疗等领域的合作做出了贡献。
谢菲尔德大学校长凯斯·博内特爵士对谢菲尔德大学与中国各个合作伙伴十年来的友好关系表示祝贺,赞扬孔院作为示范孔院在十年里取得的成就。他表示,十年时间,孔子学院的发展已成为习近平主席所称的中英关系"黄金时代"的一个缩影,成为了中英两国正式建交45年来所取得的重要成就之一。
英国国会议员保罗·布卢姆菲尔德诚挚感谢孔院在促进谢菲尔德市人民与中国人民之间的理解与沟通所做的工作。
刘晓明大使发表了《知之者,好之者,乐之者》的主旨演讲。大使肯定了孔院在中英交流合作中起到的重要作用及获得的巨大成绩,强调"示范孔院"应做汉语教学的"知之者"、讲述中国故事的"好之者"、促进中英关系的"乐之者",并呼吁青年朋友为继续推进中英关系的黄金时代与人类社会的和谐发展贡献自己的青春与力量。
刘晓明大使还与博内特爵士共同为示范孔院揭牌。
孔子学院总部副主任赵国成表示谢菲尔德大学孔子学院是英国乃至欧洲最早设立的孔子学院之一,经过10年的不懈努力,今天已经发展成为英国中北部的汉语教学、汉语考试服务、中英文化交流、中国商务咨询的重要中心,成为全球表现最杰出的孔子学院之一,无愧示范孔子学院的称号,总部将一如既往全力支持谢菲尔德大学孔子学院的发展。
北京语言大学副校长董立均教授、南京大学校长助理范从来教授分别代表孔院的合作院校进行发言,谢菲尔德商会代表尼克·帕垂克(Nick Patrick)和香港中文大学代表叶彩燕(Virginia Yip)也分别介绍了如何与孔院进行下一步的深入合作。
随后,孔院师生为观众呈现了一场动静结合、精彩纷呈的中国文化展览,细腻柔美的舞蹈《忆江南》、青春靓丽的旗袍秀《在水一方》等节目是谢菲孔院人对孔院10岁的生日祝福。
十年岁月,十年征程,谢菲孔院不同的生活场景,不同的汉语教师,却承担着相当的使命与责任。用心教好中国语言,用爱传播好中华文化,风雨沧桑,深情不变。
---
中国驻英大使刘晓明夫妇出席谢菲尔德大学孔子学院成立十周年暨示范孔子学院揭牌仪式
原创 2017-10-10 曼彻斯特领区学联曼彻斯特领区学联
英国时间2017年9月27日,中国驻英国大使刘晓明及其夫人胡平华应谢菲尔德大学校长凯思·博内特爵士邀请,出席谢菲尔德大学孔子学院成立十周年暨示范孔子学院揭牌仪式。驻英国大使馆公使衔教育参赞王永利、驻曼彻斯特总领馆教育参赞王盈陪同出席。此外,谢菲尔德市议员保罗、国家汉办副主任赵国成、谢菲尔德大学相关部门负责人、谢菲尔德大学孔子学院代表、曼城领区留学生等近200人参加此次活动。
谢菲尔德大学孔子学院成立十周年暨示范孔子学院揭牌仪式
曼城领区的留学生们自发地组成了欢迎队伍,高举国旗、横幅热烈欢迎刘大使夫妇的到来,刘晓明大使抵达谢大后与每位同学亲切握手,询问他们的学习和生活情况。
曼城领区的同学自发组成欢迎大使的队伍
刘晓明大使与每位留学生亲切握手

随后,谢菲尔德大学校长凯思·博内特爵士等校方负责人与刘晓明大使进行了会谈,博内特爵士表示,谢菲尔德大学一直十分珍视对华合作,在中国大使馆和驻曼彻斯特总领馆的全力支持下,该校孔子学院过去十年发展顺利,为加深中英两国人民交往、科技合作等多方面夯实了基础,搭建了桥梁,在孔院助力下,该校还不断加深同南京大学、北京大学、清华大学等中国的国际顶尖院校的合作,在科技创新、人才培养、促进当地社会和经济发展等诸多方面取得了较大发展。校长强调,中国学子不仅为大学营造多元化国际氛围产生重要影响,而且有力地促进了中英人民的相互学习和了解,是谢菲尔德大学不可或缺的重要组成部分。
刘大使夫妇与校长、议员及国内代表团合影
刘大使与谢菲尔德大学校长凯思·博内特爵士会谈

驻英大使馆公使衔教育参赞王永利与驻曼彻斯特总领馆教育参赞王盈陪同出席会谈
下午两点,庆典仪式在谢大庄重而古典的Firth Hall大厅正式拉开帷幕,刘晓明大使首先参观了谢大孔子学院10年回顾展,在之后的揭牌仪式上发表了题为《知之者,好之者,乐之者》的主旨演讲,将活动带入高潮。
刘大使参观谢菲尔德大学孔子学院10年回顾展览
演讲中,刘大使表示,虽然是第一次来谢菲尔德大学,但并不感到陌生,因为谢菲尔德大学不仅是英国的著名学府,更与中国先哲孔子有不解之缘,都强调"平民教育"、"教学相长"和"知其所以然"。
刘大使发表题为《知之者,好之者,乐之者》的主旨演讲
刘大使指出,在博内特校长带领下,谢大孔子学院开拓进取,成为全球31家示范孔院之一,为中英教育文化合作与交流做出了突出贡献。
现场200余名观众认真聆听刘大使演讲

刘大使对孔院如何发挥示范作用提出了三点希望:
首先是做汉语教学的"知之者"。随着中英关系"黄金时代"深入发展,英国"汉语热"还将不断升温,面对如此巨大的需求,提升汉语教学水平是"示范孔院"义不容辞的责任。
其次是做讲述中国故事的"好之者"。学习语言只是了解中国的第一步,更深层次的是了解中华文明特性。当代中国发展的精彩故事一个接着一个,但令人遗憾的是,一些英国民众对中国的认识还很肤浅,甚至偏颇,因此,示范孔子学院要用好的语言、好的人脉资源,帮助英国民众深入了解中国故事的"所以然",向英国民众展现一个更加真实、更加丰富、更加生动的中国。
第三是做促进中英关系的"乐之者"。坚持特色发展,不断创新和丰富孔院工作内涵,促进孔院与当地社区协同发展,为推动中英人文交流做出重要贡献,使双方合作内容变得更加务实和丰富,实现互利互赢。
刘大使与凯思·博内特爵士共同为示范孔院揭牌
刘大使和凯思·博内特爵士与来宾们合影

之后,在议员保罗布鲁姆菲尔德先生、国家汉办及南京大学、北京语言大学领导和现场200余名观众的见证下,刘大使与博内特校长共同为示范孔子学院揭牌,庆祝谢菲尔德大学孔子学院十周岁生日快乐。

活动尾声,谢大孔院还为到场的来宾们准备了精彩的中国传统节目,揭牌仪式在浓浓的中国元素的氛围中结束。

刘大使夫妇访问谢菲尔德大学波音先进制造中心
随后,在博内特校长陪同下,大使夫妇来到谢菲尔德大学先进制造中心(AMRC)访问。该中心是英国工业发展战略核心基地,采用大学与工业界合作模式,将高校科研创新与先进制造技术紧密结合,已经成为英国"提升制造业能力"国家战略的组成部分,此外,它还通过实习生制度,创造了全新的人才培养模式。在波音先进制造中心,刘大使认真了解该中心的运作模式,在培训中心,大使与刚下课的谢菲尔德当地实习生亲切交流,并在欢声笑语中与博内特校长、先进制造中心的专家们握手惜别,结束了一天的访问。

编辑:曼彻斯特领区学联实习媒体通讯社
摄影/摄像/视频:马煜旸/张轩铭/易琬婷/孙静/马丹琪/胡敏
配音:罗世浩
A global reputation
Sheffield is a research university with a global reputation for excellence. We're a member of the Russell Group: one of the 24 leading UK universities for research and teaching.