Merging or Conversing?: Reflections of a Western Composer Writing for Chinese Instruments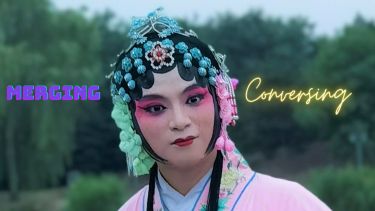 On Monday, July 27th at 9am - 11:20am, the Sheffield Confucius Institute will be proud to collaborate with Peking University for this fascinating online event. Sheffield University Department of Music Professor Dorothy Ker, will join representatives of Peking University in an exploration of the history of notation and characteristics of the unique Kunqu opera form and the Guqin musical instrument - complete with live and recorded performances of Kunqu Opera and the Guqin during the event.
Reflections of a Western Composer Writing for Chinese Instruments - Professor Ker
With their distinctive sonic palette, Chinese musical instruments are attractive to the contemporary Western composer for integrating within Western classical music ensembles. The consequent encounter between contrasting traditions of practice and aesthetics brings opportunities and challenges that go wider than simply musical considerations. Professor Ker will present recent compositions, giving an overview of the journey of her relationship with Chinese music and musicians, and her vision for facilitating dialogue and knowledge exchange across cultural boundaries. 
WHEN

27th June, 9am - 11:20am
 
WHERE

ONLINE (event link below)
 
FREE EVENT
Event link: https://tinyurl.com/fusiontransformation
Meeting ID: 993 2687 2345
Passcode: 406896
---
Event Itinerary
Time
Activity
9:00 - 9:05
Event introduction by host: Dr. Mei Zhang, School of East Asia studies, University of Sheffield. Sheffield Confucius institute
9:05 - 9:25
Keynote speaker: Chen Jun, Associate Professor, School of Art, Peking University

Title of presentation: Gongche Musical Notation,staff notation and numbered musical notation: Changes of musical forms of Kunqu Opera in China in the 20th century
9:25 - 9:30
Kunqu Opera Performance: "The Palace of Longevity"

Performer: Cheng Siyu, Master student at Peking University School of Arts.
9:30 - 9:40
Kunqu Opera Performance: "The Peony Pavilion"

Performers: Wang Jun,  Master of Laws, School of International Relations, Peking University and Xu Xiaoyang, teacher of Beijing Fangzhuang Children's Palace Performance
9:40 - 10:05
Keynote speaker: Dorothy Ker, Professor of Music Department, University of Sheffield, UK.

Title of presentation: Merging or Conversing? --- Reflections of a Western composer writing for Chinese instruments.
10:05 - 10:20
Tea break
10:20 - 10:25
Guqin Solo Performance: "Autumn Thoughts in Dongting"

Performer: Li Yang, Project Executor of Peking University Guqin Inheritance Project
10:25 - 10:50
Keynote speaker: Jin Wei,  Deputy Secretary China Kun Qpera & Guqin Research Institute
 
Title of presentation: The characteristics of the Notation System of Guqin
10:50 - 10:55
String Song  Performance: "Water Melody Song Head"

Performer: Wang Yue Founder of Furen Academy
10:55 - 11:00
Guqin and Copper Xiao Ensemble Performance: "The Resentment of Nagato"

Performer (Copper Xiao): Chen Yutao, President of Chongqing Songquan Qin Society

Performer (Guqin): Xu Jingya, vice president of Songquan Qin Society
11:00 - 11:10
Commentary

Commentator: Liu Yanling, Tenured Associate Professor, School of Arts, Peking University
11:10 - 11:20
Discussion and summary
 **An interpreter will be provided for representatives from Peking University**
Events at the University
Browse upcoming public lectures, exhibitions, family events, concerts, shows and festivals across the University.