New partnerships in science and innovation between Sheffield and China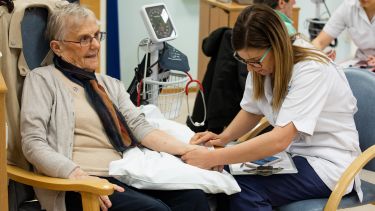 The University will sign a President to President agreement with Jilin University in the North of China
University delegation will also visit Xiamen University in the South
The visit will include exploratory meetings on Artificial Intelligence (AI) in collaboration with China's leading Tsinghua University and a visit to the Chinese Academy of Launch Vehicle Technology, as well as media interviews promoting Sheffield's reputation for applied innovation in China
The visit builds on existing research collaboration in crucial areas such- as anti-microbial resistance - a major health challenge in hospitals around the world. The University will sign a formal partnership agreement with Jilin University in the North of China and will explore further scientific collaborations and partnerships with Xiamen University in the South.
Leading the delegation for the Faculty of Science are, Professor Simon Jones who will deliver a research seminar to the faculty and students of the College of Chemistry and Professor Simon Foster, an eminent international researcher in anti-microbial resistance who already has research staff from the partner institutions in his research laboratory group.The partnerships will involve collaboration in a number of areas including student and staff exchange and research.
Professor Sir Keith Burnett said: "I feel very honoured to visit Jilin University because we believe this kind of collaboration with China will be an important part of our future. We greatly admire the work being done here to address the common challenges being faced by our countries and the world. My colleagues have seen powerful scholarship taking place here and we are particularly excited about areas such as artificial intelligence, aerospace and the diseases of ageing.
"I am also delighted about cooperation in exciting areas such as quantum computing and communications. For all these reasons, it is inspiring to consider how we will develop our partnership and make this vision a reality."
The visit reflects the University of Sheffield's increasing reputation in China and the week-long visit is part of the University's strategy as a leading global research-intensive institution. The University of Sheffield was recently ranked in the top 50 most international universities globally by the Times Higher Education Global Rankings.
As part of the week-long visit, the Vice-Chancellor will also be holding meetings at China's top-rated Tsinghua University in Beijing, where the university is developing partnerships in artificial intelligence and applications in manufacturing, ahead of hosting a return visit to Sheffield in April.
Jilin and Sheffield will also sign a Memorandum of Understanding for the exchange of law students and the faculty are currently considering opportunities for deepening exchange in culture and education for the benefit of communities in the UK and China.
President Professor Li Yuanyuan from Jilin University said: "I warmly invite Sheffield scholars, lecturers and students to visit Jilin University to carry out research and study here, to deepen our academic ties but also enhance the development of both our peoples. I am grateful to Sir Keith Burnett for the work he has done to build the friendship and understanding between the UK and China, and I see this as a strong basis for a significant academic partnership between our two universities who have so much in common.
"Building on our common work through the Confucius Institutes, we have a clear shared commitment to building understanding and exchange which I hope will lead to us creating joint laboratories and research. I am confident that the increased funding we are receiving from the Chinese government will support the development of truly important programmes together."
Sir Keith, who is a Chinese speaker, has also been invited to visit the Chinese Academy of Launch Vehicle Technology in Beijing, where he will address an invited audience on Industry 4.0 – and what this means for the UK and China.
The speech will draw on the experience of the University of Sheffield's research with industry on advanced manufacturing and AI led by the Advanced Manufacturing Research Centre as well as its new Mindsphere facility with Siemens, based at the University's world class teaching facility, the Diamond. The University's AMRC is a formal partner of the Chinese space programme, working on high-performance materials for the Chinese space station.
In Beijing, the Vice-Chancellor gave interviews to China Central TV and China Education TV, as well as the leading Xinhua News. A collection of essays by Sir Keith on partnerships in science and innovation - The Road to Collaboration: the UK and China - was recently published in English and Chinese by Xinhua publishing
The importance of partnerships
After speaking to China Education TV about partnerships between the University and leading Chinese universities, Sir Keith said: "We know Chinese universities are rapidly increasing their research quality and global rankings. Our approach is to think about what we can bring to this new Chinese empire of productivity and trade across the Belt and Road - not only competing but partnering to address shared challenges and benefit both of our peoples.
"The rising of Chinese universities is not only competition but opportunity - western universities need to understand these developments and to transform fear of change into seeking ways of doing powerful good together.
"We should honour what China is doing, be inspired at what has been achieved, and look at the chances to collaborate on the very most exciting areas, whether those be AI, aerospace, health or new materials. For Chinese students and families, our aim is to continue to give them the education and opportunities which they need, and to keep on working with our government to improve the policies and visas which properly welcome them."
---
谢菲尔德大学将与中国建立新的科学与创新合作关系
谢菲尔德大学校长凯思·博内特爵士携谢大科学学院学者正在对中国进行为期一周的访问。
o 谢菲尔德大学校长凯思·博内特爵士携谢大科学学院学者正在对中国进行为期一周的访问
o 谢菲尔德大学将与中国吉林大学签署合作协议
o 大学代表团也将访问厦门大学
o 此次访问还将包括与中国著名高等学府清华大学合作召开人工智能(AI)探索性会议,参观中国运载火箭技术研究院,并进行多项媒体访谈,以提升谢菲尔德在中国应用创新领域上的声誉
这次访问活动基于双方现有的合作研究领域而开展——如抗微生物药物耐药性这一世界卫生领域正面临的一项重大挑战。大学也将正式与中国吉林大学签署合作协议,并进一步寻求与厦门大学开展科技合作,建立伙伴关系。
领导此次科学学院代表团的是西蒙·琼斯(Simon Jones)教授和西蒙·福斯特(Simon Foster)教授。西蒙·琼斯教授将藉此机会与化学学院的师生举行专题研讨会。西蒙·福斯特教授是微生物耐药性领域的国际知名学者,他实验室现有的研究小组就已有数名来自吉林大学的研究人员。这次合作将涉及多个领域,包括学生和人员交流以及合作研究。
凯思·博内特爵士说:"我很荣幸能够到访吉林大学,因为我相信与中国的合作会是谢菲尔德大学未来非常重要的一部分。我们非常欣赏吉林大学所做的研究工作,这将有助于解决各国乃至全世界所面临的共同挑战。我的同事们见识到了这里强大的学术研究能力,尤其是在人工智能、航空航天和老龄化与疾病等领域。
"吉林大学与本校在量子计算和量子通信等领域上的合作成果也让我感到十分欣慰。凡此种种原因,每当我畅想两校如何发展未来的合作关系以使这些愿景成为现实时,就感到十分鼓舞人心。"
此次访问反映了谢菲尔德大学在中国日益增长的声誉。访问为期一周,是谢菲尔德大学建成全球领先的研究型大学战略的重要一步。谢菲尔德大学最近被泰晤士高等教育全球排名列入全球前50大国际大学之列。
访问期间,校长还将在清华大学举行会议,清华大学正在开拓人工智能和应用制造方面的合作伙伴关系,并且将在四月份对谢菲尔德进行回访。
吉林大学和谢大还将签署谅解备忘录,互派法学交流生。双方也正在考虑如何创造更多文化和教育交流的机会,以造福中英两国的社会。
吉林大学校长李元元教授说:"我热烈地欢迎谢菲尔德大学的学者、教师和学生们来到吉林大学进行研究和学习,加强两校的学术交流,同时也密切两国人民的联系。我非常感谢凯思·博内特爵士为建立中英两国之间的友谊所做的一切,本校与谢菲尔德大学有着许多的共同点,而这些共同点为两校的学术合作关系奠定了强大的基础。
"基于双方现有的工作以及孔子学院的帮助,我们对加强理解和交流有着明确的共同目标,我希望这将引领我们一同创建联合实验室与合作研究。随着中国政府拨发更多的资金予本校,我坚信我们能够更加有效地支持开发重要的项目。"
凯思爵士作为一名中华文化的爱好者,能够比较熟练地运用中文。此次,他也受邀到北京参观中国运载火箭技术研究院,并发表关于"工业4.0"的演说,阐述这一理念对中英两国的重要意义。
此次演讲将介绍谢菲尔德大学先进制造研究中心(AMRC)在工业、先进制造和人工智能等领域的研究经验,还将介绍谢大与西门子(Siemens)共同开发位的设于本校世界一流教学设施Diamond的新Mindsphere设施。谢菲尔德大学的AMRC也是中国太空计划的官方合作伙伴,致力于为中国空间站开发高性能材料。
校长的北京之行还将接受中央电视台、中国教育电视台以及新华社的采访。由凯思爵士撰写的有关中英科学与创新合作伙伴关系的论文集《融通大道——英国谢菲尔德大学校长论中国》最近也由新华出版社以中英双语版出版面市。
Flagship institutes
The University's four flagship institutes bring together our key strengths to tackle global issues, turning interdisciplinary and translational research into real-world solutions.