SCI Dragon Boat Festival 2020 - Virtual Activities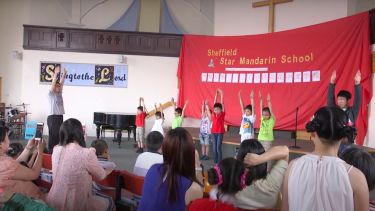 To celebrate the annual Dragon Boat Festival of 2020, the Sheffield Confucius Institute was excited to organise a virtual quiz for our Chinese language learners, the general public and staff from various universities around the UK.
The quiz itself consisted of four rounds, ten questions in each round with a total of 40 questions for participants to enjoy. The rounds included General knowledge, Chinese food and culture, as well as an interactive picture round based on traditional Chinese festivals.
To finish the quiz off in style, SCI staff even organised a scavenger hunt for the final round – participants were tasked with finding various objects around there house, including baked beans and the funkiest pair of socks that they own! Participants thoroughly enjoyed the quiz and our SCI learner of over 4 years, Andrew Johnston, won the 1st place prize.
Feedback for the quiz was overwhelmingly positive and we hope very much to hold more activities like this in the future. The SCI has also organised both a writing competition and short-video competition, the deadlines for which are 31 July and 31 August respectively.
---
Online activities and events organised by the Star Mandarin School at the Sheffield Confucius Institute
To celebrate the annual Dragon Boat Festival of 2020, the Sheffield Confucius Institute was also excited to organise a Talent Show for the parents and children of the Star Mandarin School, operated by the Sheffield Confucius Institute.
The Talent show consisted of many varied and interesting acts, including singing, cooking, arts and crafts, baking, and drawing. We even had one student who completed three rubix cubes in around two minutes! Staff and teachers at the SCI would like to our thanks to the parents and students that took part in this event. We are very grateful to the time and effort that went into preparing and showcasing their performances.
The Sheffield Confucius Institute and the Star Mandarin School would also like to highlight the upcoming "Online Mandarin Summer School 2020", which will run from 3 August to 15 August 2020. The summer school is open to children aged 5-16, but do not worry – prior knowledge of Mandarin Chinese is not a requirement!
Events at the University
Browse upcoming public lectures, exhibitions, family events, concerts, shows and festivals across the University.