SCI Newsletter August-September 2021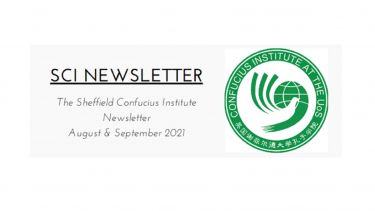 SCI Update
The Confucius Institute at the University of Sheffield has continued to hold language courses, activities, exams, seminars and cultural events during August and September 2021.
Read on for more details!
---
Chinese Language Courses Open for Autumn Semester
Star Mandarin School (School for Young Learners)
After weeks' of intensive preparations, the Star Mandarin School, also known as the School for Young Learners opened on Saturday 18th September 2021, with the total number of class registrations reaching almost 800. The number of registrations reached around 460 in 44 Mandarin classes and around 340 in 36 Arts and Maths classes.
In addition, there are around 90 new students taking Mandarin, Maths and Arts tuition this semester at the Star Mandarin School. In offering the classes online, the SCI has received about 60 children registered from regions outside Sheffield, including Cornwall, Lincoln, Sussex, Norwich, Suffolk, Liverpool, Greater Manchester and Hertfordshire, among many more.
School for Adult Learners
After months of preparation, week commencing Monday 20th September, the SCI Adults Department (School for Adult Learners) opened all courses for the Autumn semester 2021. The 5-day intensive crash course "Survival Chinese" opened on Monday 20th September and the 12-week course "Chinese for Everyone" one week later on Monday 27th.
This semester, 53 students signed up for these courses at the School of Adult Learners, reaching 66 registrations in total. The School for Adults has also opened its Traditional Chinese Calligraphy course for the second semester and the semesterly language exchange; the Sino-English Corner.
---
Sheffield Confucius Institute Annual Board Meeting
On the 30 September 2021, the Confucius Institute at the University of Sheffield held the 14th Annual Board Meeting, hosted by the University of Sheffield and attended by the Sheffield Confucius Institute's partner universities; Beijing Language and Culture University (BLCU) and Nanjing University (NJU).
It was the second online meeting due to the COVID-19 pandemic, having also conducted the 13th Annual Board Meeting online in September 2020 Although 2020 & 2021 were both challenging, the SCI has continued to deliver the majority of its core activities, through the hard work, dedication and creativity of the SCI team.
Towards the end of the meeting, the three partner universities also discussed plans to hold the next Annual Board Meeting at the beginning of next year, in 2022. Finally, further thanks, well-wishes and concluding remarks were provided by Dr Butler, Prof Liu and Prof Yang to bring an end to the meeting.
---
HSK & HSKK Home-edition Exam: December 2021
To meet the needs of Chinese learners around the world, the Chinese Testing International Co., Ltd. (CTI) have decided to launch the Online Chinese Test (Home Edition) again, to help students complete HSK and HSKK exams at home, with remote monitoring taking place from the respective test centres.
The SCI has offered the Home-edition tests three times in 2021 and the next round of Home-edition exams will take place on Saturday 11th December 2021 and the registration deadline is Wednesday 1st of December 2021. To register, please do so via the University Online Store.
---
Mid-Autumn Festival Quiz Event
On September 21 2021 the Adults Department at the Confucius Institute at the University of Sheffield came together to celebrate the traditional Mid-Autumn Festival with an interactive and fun online quiz; organised to give students, friends and members of the general public a taste of Chinese language, culture and customs.
The quiz was split into three rounds; Mid-Autumn festival customs and etiquette, traditional Chinese festival etiquette and taboos & General knowledge. The event was organised and hosted by SCI staff.
---
Welcome to our new Teachers
Jia Li: With over 13 years experience teaching Chinese, Jia brings a wealth of knowledge to the Sheffield Confucius Institute. Jia graduated from the Baicheng Normal College with a BA in English Literature and a Masters in Teaching Chinese to Speakers of Other Languages (MTCSOL) from Capital Normal University.
Jia previously worked as Chinese teacher at Rajamangala University of Technology in Thailand from 2011-2012 and the International Chinese Language & Culture Centre at Tsinghua University in 2013. Since 2015, Jia has worked as Chinese teacher at Beijing Language and Culture University (2015) and in June 2021, joined the Confucius Institute at the University of Sheffield as a full-time Chinese language teacher.
Yanan Liang: Yanan joins the Sheffield Confucius Institute as a highly experienced teacher, with over 6 years experience as a Chinese language teacher. Yanan graduated from the Department of Chinese Language and Literature, Yantai University with a BA in Chinese Linguistics in 2015 and an MA in Education from Beijing Language and Culture University in 2020.
Since 2015, Yanan has worked in both Thailand and South Korea as a Chinese teacher, teaching courses such as Integrated Chinese, Business Chinese, HSK 3, 4 & 5. During her time teaching at the Confucius Institute of Keimyung University in South Korea, Yanan also taught classes in traditional Chinese culture, for example, Chinese tea ceremonies, Beijing Opera masks and traditional Chinese knots.
Further consolidating her experience, in December 2018 during her time in South Korea, Yanan was awarded the 2nd Excellent Teacher Award at the Chinese Poetry Recitation Competition.
---
Thank you for reading!
A world top-100 university
We're a world top-100 university renowned for the excellence, impact and distinctiveness of our research-led learning and teaching.