Sheffield looks east: double honour from China for Sheffield University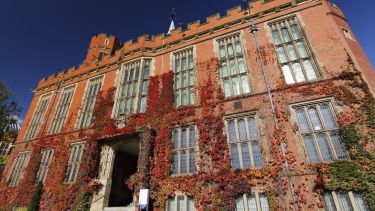 The University of Sheffield has been named one the first tranche of a small number of universities globally to host a Model Confucius Institute. Building on the success of its thriving Confucius Institute, the University will extend its current provision of courses and public events in Chinese language and culture to include a focus on the needs of business, low-carbon events and health.
An agreement to host the new Institute was signed by the Vice-Chancellor of the University of Sheffield at the 9th annual global conference of the Confucius Institute in Xiamen in China this weekend. The University of Sheffield was one of the first universities in the UK to host a Confucius Institute, and in 2010 the Sheffield Institute was named Confucius Institute of the Year.
Vice-Chancellor Professor Sir Keith Burnett, himself a speaker of Mandarin Chinese with a personal interest in Chinese language and culture, was also awarded an Individual Performance Excellence award - a national a honour presented by the Vice-Premier of China Liu Yandong which reflects his longstanding support of greater mutual understanding between the UK and China. As well as his work as a Vice-Chancellor and Scientist, Sir Keith is an adviser on Chinese language teaching materials.
Responding to the double honour, Sir Keith said:
"It is a tremendous privilege for the University of Sheffield to be honoured internationally by China in this way. All commentators agree that China and its people will be crucial to the future of the world, and it is essential for our university, students, city and nation to have the best possible access to understanding Chinese language and culture.
"But much more importantly, China is a partner of Britain. Our businesses work together everyday, Chinese students and staff contribute vital resource and scholarship to our universities. But we also share common challenges. We need to pool our talents as we create the sustainable energy the world will need, address problems of pollution and think about how to care for an ageing population. In all these areas, the UK and China simply must work together."
Director of the Sheffield Confucius Institute, Dr Lucy Zhao, agreed:
"It is a source of real pride that Sheffield is taking such a progressive view of how to work more effectively with Chinese business, industry and health. The University of Sheffield is determined to seize this opportunity to work in genuine partnership with Chinese educators to encourage the best possible understanding between people. Extending our existing work into areas of mutual challenge will bring with it real benefits for everyone, as well as opportunities for our students and local businesses."
---
The Model Confucius Institute will be based at newly extended and refurbished facilities within the University, to include new teaching and exhibition space, but will also continue to provide opportunities across the city region for local schoolchildren, businesses and groups of adults to participate in everything from taster events in Chinese dance and calligraphy through to classes in Mandarin Chinese."

Dr Lucy Zhao

Director of the Sheffield Confucius Institute
---
Welcoming the news, Sheffield Postgraduate Management Student Jinguin Xiong said:
"I think it's important that the UK and China understand each other's cultures as it will prompt better business co-operation between our two countries which is good for our economies. Better understanding means more opportunities, bigger markets and increased inspiration."
University of Sheffield links with China
The University of Sheffield has welcomed students from China for many decades, with the first graduation of a Chinese Student from the University in 1967. It is now home to Chinese undergraduate and postgraduate students in all faculties from engineering and medicine to architecture and law.
The University also works in partnership with a number of leading Chinese universities, including Nanjing University. Beijing Language and Culture University and Tongji University.
The University of Sheffield is working closely with the UK Government's Department for Trade and Industry to pilot placements for Chinese students in local SMEs, helping those companies gain invaluable experience in working with China. The scheme was launched in Sheffield in November by the Minister of State for Trade and Investment, Lord Livingstone.
The University is also working closely with Chinese companies on advanced manufacturing related to low carbon energy, including in relation to the UK government's partnership with China to develop the next phase of civil nuclear energy production in the UK.
Films produced by the University of Sheffield to help Chinese students understand more about how to apply to study in the UK are now launched in parliament with the support of the UK Government and the Chinese embassy in London. The films are now used by more than 100 universities working with potential students and form part of the university's #weareinternational campaign with its Students' Union to highlight the value of international students to the UK. The campaign was recently named winner of the Times Higher Education International Student Strategy of the Year.
About the Confucius Institute
Confucius Institutes are non-profit public institutions affiliated with the Ministry of Education of the People's Republic of China to promote and teach Chinese language and culture around the world.
The first institute was opened in Seoul, South Korea, in 2004 and there are now over 480 Confucius Institutes in dozens of countries on six continents.
A world top-100 university
We're a world top-100 university renowned for the excellence, impact and distinctiveness of our research-led learning and teaching.