Working with China brings opportunities and investment to Sheffield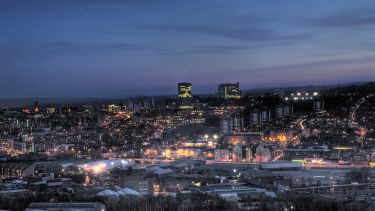 The Financial Times is a well-known champion of the benefits of international trade. It has led the discussion of this and related matters in important forums around the world. With that in mind, I would like to correct a misunderstanding that seems to have arisen about the role of Confucius Institutes, as I know them.
We in the Northern Powerhouse agree that the only way we can hope to be part of the prosperity that international collaboration and trade bring is to work effectively with partners around the world, including — arguably the present leader in global free trade — China. Part of a nation that prides itself on our skills in innovation, advanced manufacturing and being open to the world, we know that not being fully cognisant of opportunities for trade and investment would be folly.
As a university, we are doing our duty in this regard for industry and commerce in our own Sheffield city region, working with universities and companies in China on innovative technologies for low-carbon electric cars, quantum computing and the high-performance metals used on the Chinese space station.This in turn brings opportunities and investment back to our own region.
The Confucius Institute at the University of Sheffield is key to this work. Our award-winning Confucius Institute, along with providing the language teaching to individuals and companies wishing to learn Mandarin, has played an active role in building the local industrial and commercial sectors' trade and investment ties with Chinese partners and prospective investors and customers. This is warmly welcomed by our local chamber of commerce, city council and local enterprise partnership.
I should add that I would never countenance allowing any government — UK, Chinese or any other — to determine the content of our courses, teaching or research. That is a matter of cherished academic freedom that, as recently emphasised by our minister for universities Jo Johnson, receives 24-carat protection in UK law.
Sir Keith Burnett Vice-chancellor, University of Sheffield and Head of Science and Innovation, Sheffield City Region.
---
与中国合作为谢菲尔德带来机会和投资
编者按:谢菲尔德大学校长凯思·博内特爵士于11月13日在《金融时报》发表文章,纠正对孔子学院作用的误解。
    贵报历来都是国际贸易的坚定捍卫者,在世界各地的重要论坛上引导了对国际贸易相关话题的讨论。鉴于此,我想以我的了解纠正一个似乎已经出现的对孔子学院作用的误解。
    "北部振兴计划"认为,若要共享国际合作和国际贸易带来的繁荣,唯一方式就是与世界各地的合作伙伴们有效地合作,包括堪称目前全球自由贸易领导者的中国。我生长在这个以创新技能、先进制造业和对外开放为傲的国家,深知轻视贸易和投资机会是何其不智。
作为一所大学,我校对谢菲尔德地区的工业和商业发展尽职尽责。我们与中国的高校和企业合作进行技术创新,开发低碳电动汽车、量子计算技术和用于中国空间站的高性能金属材料。同时又把机会和投资带回到谢菲尔德。
    谢菲尔德大学孔子学院是承担这项工作的关键力量。 我校屡获殊荣的孔子学院,不但为希望学习汉语的公司和个人开班授课,更全力帮助当地工商企业同中方合作活伴、潜在投资者及客户开展合作,受到了本地商会、政府和企业的热烈欢迎。
    我还要补充一点,我决不会允许任何政府—英国、中国或其他政府—来决定我们课程、教学或研究的内容。这是一个珍贵的学术自由问题,正如大学部长乔·约翰逊先生最近强调的那样,学术自由是得到英国法律绝对保护的金科玉律。
(凯思·博内特爵士:英国皇家学会会员,谢菲尔德大学校长,谢菲尔德地区科学与创新负责人)
A world top-100 university
We're a world top-100 university renowned for the excellence, impact and distinctiveness of our research-led learning and teaching.