The world's largest 3D printed butterflies have landed in Sheffield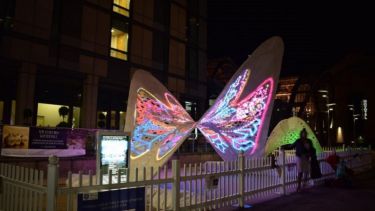 The butterflies, which have more than 100 light changing modes, were created in Guangdong, China by 4D Dreamworks Team- a group of Chinese architecture students.
They were shipped all the way to Sheffield by the Confucius Institute at the University of Sheffield, who worked alongside Sheffield City Council and South China University of Technology.
The larger butterfly measures 6.6 x 5.8 x 4.5 meters and the smaller ones are 3.7 x 3 x 3 meters.
Speaking at the Christmas light switch-on, Dr Lucy Zhao, director of the Confucius Institute, said: "Butterflies have always been popular with Chinese tradition. You may have seen them in Chinese embroidery, paintings, and porcelain.
"We also have a famous love story known as Butterfly Lovers, in which two lovers were separated by their parents but they flew away together as two butterflies and were never separated again.
The butterflies have more than 100 light changing modes.
"The frame of the butterflies was created through 3D printing. In this sense, the butterfly lights showcase the combination of tradition, innovation and advanced manufacturing, which is what Sheffield is all about."
The Confucius Institute at the University of Sheffield, which creates ties between China and Sheffield, is celebrating its 10th anniversary this year.
The UK-China diplomatic relationship also celebrates its 45th anniversary in 2017.
Dr Zhao said: "The butterflies are shaped to represent a bridge between the UK and China. We thought we would go an extra mile and arrange something special for our city."
The display was illuminated last Sunday, during the Christmas light switch-on in Sheffield city centre.
Dr Zhao said: "Christmas is one of the most important occasions, and lighting is crucial to get us into the festive mood. We wanted to add an interesting twist and a pop of colour to the lighting event this year.
"Decorative lights are also used to create a festive atmosphere in China."
The butterflies will be illuminated from 1pm to 11pm daily.
---
"蝶变·中国"亮相谢菲尔德,共迎圣诞时间
当地时间11.19日晚,谢菲尔德2017圣诞点灯仪式隆重举行。当天,谢菲尔德市举办了一系列圣诞点灯活动,营造出浓郁的圣诞氛围。
作为中英合作交流的桥梁,谢菲尔德大学孔子学院与华南理工大学合作,也为谢菲尔德民众带来了来自中国的圣诞礼物——"蝶变·中国"3D打印蝴蝶灯光展,为活动增添了温馨、欢快的氛围。
谢菲尔德大学孔子学院英方院长赵霞博士在活动现场接受采访时表示,谢大孔院之所以将"蝴蝶"带到谢菲尔德,是因为:
蝴蝶在中国传统中一直深受喜爱,英国民众可以经常在中国刺绣、绘画和瓷器上看见蝴蝶元素。蝴蝶恋人《梁山伯与祝英台》这则经典的中国爱情故事也较为英国民众熟识。
同时,蝴蝶更是象征着蜕变,这符合了现今的中国以及谢菲尔德的发展主线。通过中国3D打印技术制造出的"蝴蝶"展示了传统、创新和先进制造的结合,这也是谢菲尔德市发展的理念。
谢菲尔德市从工业革命重要钢铁城市转变成今天的科技、文化应用型城市,过程必然艰辛,而破茧成蝶的那一刹那则向人们展现耀眼的光芒。
"蝶变·中国"也喻意中国大地在"新时代"背景下经历的新一轮文化与科技的"蝶变"历程。
蝶舞翩翩,蝶形拱桥也代表了孔子学院正是沟通中英之间的桥梁。
2017年是谢菲尔德大学孔子学院成立十周年。十周年,是一个阶段的完成,更是一个阶段的开始。因此,我们需要"蝴蝶飞过沧海"的勇气,再多走一英里,为我们的城市提供新的理念和思路。
本次 "蝶变•中国"系列展品由华南理工大学建筑设计研究院"4D梦工坊"团队设计并在中国广州制作完成。展品基于3D打印工艺的全新灯光展陈技术,有100多种灯光变换模式。迄今为止,该展品是全球首个3D打印的大尺度蝶形壳体灯光作品。
蝴蝶灯光展将于2017年11月19日至2018年1月3日在谢菲尔德市千禧广场进行展示。
A global reputation
Sheffield is a research university with a global reputation for excellence. We're a member of the Russell Group: one of the 24 leading UK universities for research and teaching.