Doing business with China | 中国商务
In line with the University's strategic plan, the Confucius Institute has been playing a key role in building bridges with China.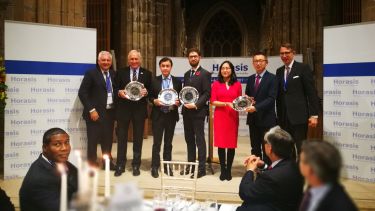 On
The director of the Sheffield Confucius Institute (SCI), as well as the Director of Engagement in China at the University of Sheffield, is working directly in business collaborations and partnerships between the UK and China.
Sheffield University is a big advocate of working with China, particularly in research and innovation, in trade and investment, in education and student recruitment, and in advanced manufacturing.
---
The SCI is dedicated to introduce the Chinese language, Chinese culture and cross-cultural communication, as well as develop and establish links between the UK and China, focusing on business, industry and healthcare.
Business and Industry
The SCI provides an important insight into Chinese business and culture and its underlying philosophy to UK companies and industries.
Business and industry links
The SCI is a founding member of the China-UK Business Research Centre established in collaboration with Academy of International Business (UK and Ireland Chapter) and British Academy of Management.
The SCI offers support to University colleagues developing business partnerships in China. For example the SCI facilitated an initial meeting between the China Railway Group Ltd and the University of Sheffield's AMRC.
The SCI has partnered with the Sheffield City Region, Sheffield City Council and Sheffield Chamber of Commerce on various forums and exhibitions and is a frequent point of contact for regional engagement with Chinese visitors or business delegations.
What do we do?
Hold business seminars.
Facilitate industrial collaboration.
Provide tailor-made Vocational Chinese and Business Survival Chinese courses.
Collaborate with Sheffield Chamber of Commerce and Sheffield City Council in various events.
Facilitate visits of trade delegations.
Regional collaboration
SCI has also worked with Barnsley City Council on China relations, including their International Urban Collaboration (ICU) EU project.
Healthcare
The SCI promotes mutual understanding of health beliefs and international collaborations, by:
holding talks on health system and health beliefs in China
helping healthcare professionals understand Chinese students and scholars' needs
helping Chinese students and scholars understand and make better use of UK healthcare system
facilitating medical visits and professionals
organising collaborated research project of medical students in different countries
identifying the opportunities and facilitating the possible collaboration between medical professionals.
The SCI is working with MedSoc and colleagues at the Medical School on a research project between UK and Chinese universities.
---
The SCI provides an important insight into Chinese Business and Culture and its underlying philosophy which enables UK companies to communicate appropriately with their Chinese counterparts in daily conversations and business negotiations. The training of Chinese language and business culture can be tailored to suit a business customer's individual needs.
Vocational Chinese allows a business to train their staff with Mandarin speaking skills in order to improve their services to Chinese customers.
Survival Chinese equips business people and professionals with the language and cultural skills necessary to work and travel to China.
Private Lessons caters for individual needs, including testing for businesses wishing to train or recruit new members of staff who can speak Chinese.
These courses can either be held at the University of Sheffield or at the organisation's premises.
---
The SCI actively promotes knowledge and understanding of China and Chinese business in the business community. Collaboration with organisations such as Sheffield Chamber of Commerce and Sheffield City Council allows the Institute to build up links and contacts throughout the British business community, while giving that community the benefits of the cultural and linguistic expertise in which the Institute excels.
Intercultural communication Business Workshops are aimed at university staff, businesses and civic organisations that have or will have links with China.
The workshops could comprise of three sections:
Mandarin language lesson focusing on key useful phrases.
A talk on intercultural communication and correct etiquette.
An interactive workshop where participants are asked to use their newly acquired language skills in role plays with members of the CI staff.
---
For more information, contact:
Flagship institutes
The University's four flagship institutes bring together our key strengths to tackle global issues, turning interdisciplinary and translational research into real-world solutions.