Beginner Mandarin for Children, September 2023 | 非华裔儿童初级中文
Exciting opportunities for English-speakers (non-Chinese speakers) at the Star Mandarin School - we are Launching new Beginners Classes for English Speakers in September 2023.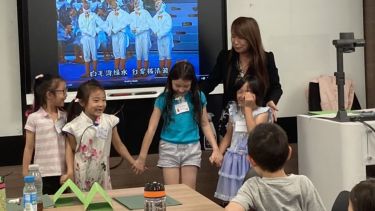 Off
About us
We are the Star Mandarin School, Sheffield's premier weekend Chinese Learning Centre for children.
We are part of the University of Sheffield and we hold our classes in the beautiful, listed building of Bartolome House on the University campus every Saturday.
Opening over the weekends and following school term times, the Star Mandarin School provides Mandarin Chinese learning to school children, in addition to Mathematics and Arts tuition, consolidating their learning at school and reinforcing their study skills.
---
Why do we need to learn Mandarin Chinese?
The Mandarin Chinese language is profoundly rooted in a rich history and culture. Words and phrases can be built up easily with logic and sentences can be constructed following strict routines. Learning Chinese is not as hard as you think!
Language is a window to another world and has become an essential part of a global education. Every child should learn languages to broaden their horizons. 
Mandarin is listed as one of the seven languages to learn at school. Learning a foreign language has been compulsory for Key Stage 2 children since 2014, and all secondary school children must learn a foreign language.  
While most schools do not have the capacity to provide Mandarin Chinese learning, the Star Mandarin School at the University of Sheffield readily provides these learning opportunities, from beginner levels through to GCSE Chinese and A-Level Chinese, to all school students, adding a unique language subject for school education.
Give it a go and start your child's Mandarin Chinese adventure!
---
Mandarin for English-speakers, 16th September 2023
-  Open Day on Saturday 9th September 2023, 1:45-3:45pm.
Beginners Class
Saturdays 09:00-11:00, for ages - 6 - 9 years
Saturdays 11:15-13:15, for ages - 10+
Foundation class
     3. Saturdays 14:00-15:30, for ages - 3.5-5 years
Venue
      Bartolomé House, School of Law, University of Sheffield, Winter St, Sheffield S3 7ND
Fees
     Fee rate is at £3.50/h, heavily subsidised by the University of Sheffield and are paid for a school year. 
Foundation Mandarin at Star Mandarin School 2023-2024
---
Contact us:
Email:  starschool@sheffield.ac.uk
Mobile: 07593502130, Dr. Xinqun Hu 
A global reputation
Sheffield is a research university with a global reputation for excellence. We're a member of the Russell Group: one of the 24 leading UK universities for research and teaching.