Chinese Culture and Language Resource Centre | 中国文化语言资料中心
The Chinese Culture and Language Resource Centre (CLRC) within the Confucius Institute provides cultural and language resources that can be accessed both by the University staff, students and the wider community, including schools and individuals.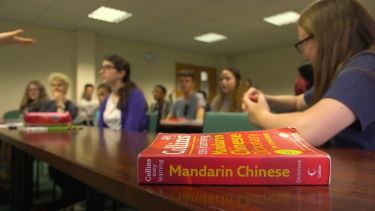 On
Our collections master substantial collections of books and AV (Audio-Visual) materials relating to China, Chinese culture and Chinese language in the following areas:
Study and research in contemporary China.
Chinese novels and literature.
Chinese films, TV series, documentaries, music and arts.
Research in Chinese language, language learning and teaching.
Chinese textbooks and multimedia learning materials, from primary learning, secondary learning to adults learning.
Chinese dictionaries, references, posters and cards.
Chinese magazines and newspapers.
Some of our collections come from kind individual donations from prestigious authors and academics in the UK. We are indebted to their generosity and will always be thankful for their contributions towards Chinese literature and China-related studies in the UK:
Innes Herdan (translator, writer and co-founder of the Society for Anglo-Chinese Understanding).
Elizabeth Scurfield (sinologist, co-founder of the Chinese Department at the University of Westminster, and author of the Teach Yourself Chinese series).
Li Ruru (sinologist, expert in Beijing Opera, and senior lecturer at the University of Leeds)
Search Our Collections
图书查询
You can search our catalogue to view bibliographic information on holdings we have in the Chinese Language and Cultural Resource Centre when you visit our CI office in person. 
Items can be either consulted in our Library Room or can be taken out on loan.
---
CNKI (China National Knowledge Infrastructure) is the largest Chinese academic E-resources and knowledge management services provider in China.
It integrates over 90% of China's knowledge information, including journals, dissertations, yearbooks, statistics, reference works, proceedings, and newspapers.
Over 20,000 institutions in China and over 20 prominent university libraries in the UK are enjoying information and services by CNKI. For more details of all our databases visit: http://oversea.cnki.net
CNKI is the largest and continuously updated Chinese journals database in the world and is supported by the Confucius Institute here at Sheffield. You can access it here via the University Library. 
For more information, contact:
(LCRC is located within the CI office)
2-4 Palmerston Road, Sheffield S10 2TE
Email: confucius@sheffield.ac.uk
Telephone: +44 114 222 8447 / +44 7593502130
A global reputation
Sheffield is a research university with a global reputation for excellence. We're a member of the Russell Group: one of the 24 leading UK universities for research and teaching.