Postgraduate taught courses
All of our masters and taught doctorate courses are designed to help you achieve your ambitions. You'll receive expert teaching, based on the latest research developments, to help you develop your future career.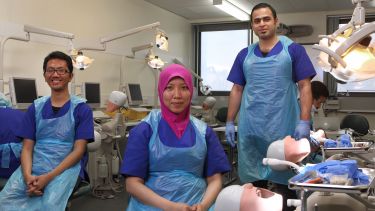 Off
Our courses 
Click on each box below for full course information: 
Receive the very best support throughout your studies
We pride ourselves on offering the very best personal and professional support to our students. We believe in you, and our staff are dedicated to providing a supportive environment in which you can develop and flourish.
The support that we provide means that our students are highly satisfied with their experience of studying here – as we hope you will be. Many of our postgraduate students go on to study for a PhD with us, or even progress into becoming staff members here, demonstrating that the positive and happy experience people have here makes them never want to leave.
Learn the latest research developments
It is our mission to make a large, positive impact to oral health and wellbeing across the world, by combining excellent education with world-leading research.
So, we offer you research-led teaching, meaning that what you study on your course will be based on the latest findings of our academic research team.
We're one of the top ten Russell Group universities for research output, and we take a highly multidisciplinary approach. We bring together biomedical, engineering and social science experts across a range of research areas which underpins our teaching and aims to advance clinical excellence.
Choose from a high-quality portfolio of courses
We offer a number of highly successful masters and taught doctorate courses, both clinical and non-clinical, for you to choose from. Some of our courses are truly unrivalled within the UK, as the only available programmes within their specialism.
Meet our students
Weekly online events
Attend an online event when it suits you, all year round, as an alternative to an open day.
Every Wednesday, Sheffield Live sessions cover different aspects of University life. You can also meet your department and learn more about studying your subject.