Sheffield Workshop in Macroeconomics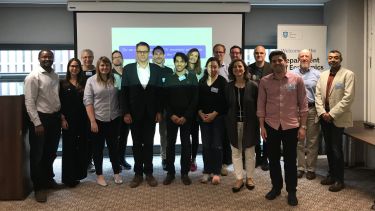 The Sheffield Workshop on the Macroeconomics brings together the latest research into macroeconomics through an exciting range of academic presentations and discussions.
Thursday 20 June 2019, 9:00am - 5:00pm
INOX, Level 5, Students' Union Building, Durham Road, Sheffield, S10 2TG
The workshop is kindly sponsored by the Centre for Applied Macroeconomic Analysis at Australia National University.
 
 
9:00am - 9:30am    
Arrival and refreshments
9:30am - 10:10am

Martin Bodenstein (Federal Reserve Board)

'The Elusive Gains from Nationally-Oriented Monetary Policy'

10:10am - 10:50am

Alfred Duncan (University of Kent)

'Financial Macroeconomics with Aggregate Risk Markets'

10:50am - 11:20am
Refreshments
11:20am - 12:00pm

Marija Vukotic (University of Warwick)

'Patent-based News Shocks'

12:00pm - 12:40pm

Paul Mizen (University of Nottingham)

'The Impact of Brexit Uncertainty on UK Firms'

12:40pm - 2:00pm
Lunch
2:00pm - 2:40pm

Gulcin Ozkan (University of York)

'What will hurt the UK economy most after Brexit: restrictions on trade, capital or migration?'

2:40pm - 3:20pm

Ruthira Naraidoo (University of Pretoria)

'Financial Intermediation with Ehrlich-Becker Arrow-Debreu Securities and Systemic Risk'

3:20pm - 3:40pm
Refreshments
3:40pm - 4:20pm

Mark Weder (Aarhus University)

'Do We Really Know that U.S. Monetary Policy was Destabilizing in the 1970s?'

4:20pm - 5:00pm

Max Gillman (University of Missouri - St. Louis)

'Revisiting US real interest rate since 1970: Euler equations, banking and Gibson's Paradox'
Workshop organisers: Christoph Thoenissen, Vito Polito and Emily Barker
---
Past workshops
Programme: Sheffield Workshop on the Macroeconomics 2018
Flagship institutes
The University's four flagship institutes bring together our key strengths to tackle global issues, turning interdisciplinary and translational research into real-world solutions.