The buildings and facilities available to you in the Department of Economics.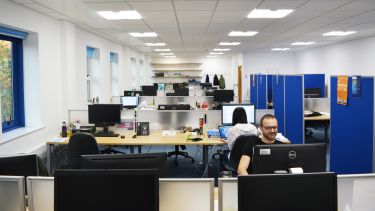 Buildings and Location
The Department of Economics building 9 Mappin Street is located in the heart of the University's campus. It received a £3 Million refurbishment in 2014 and is an excellent modern learning environment. It accommodates all academic, research, administrative staff and research students.
The building is located about five minutes walk away from the Students' Union and a little over five minutes walk from the centre of the city. The Department is well served by numerous bus and tram routes.
Computing and office space
Full-time research students are provided with office space, in shared offices, and with individual desktop PCs or laptops. The PCs in the Department are connected to the University's computer network. This gives access to the other networks and computers on the campus, to supercomputers in other parts of the country and to organisations around the world. As an accredited research institution, our PhD students can work remotely on the ONS SRS and the UK Data Service secured data labs. 
The Department's network supports an extensive range of software, including the latest versions of Microsoft software for word processing, spreadsheets and databases as well as more specialised packages for areas such as statistics, econometrics and presentation graphics.
The Library and research resources
The Department of Economics is about a five minute walk from the Information Commons that provides high quality IT-enabled study spaces and 24 hour access to student materials including books and online resources.
The Diamond opened in 2015 and is also close to the Department of Economics and will offer additional space and materials that will enhance your study.
Find a PhD
Search for PhD opportunities at Sheffield and be part of our world-leading research.