Professor Gwilym Pryce
Professor of Urban Economics and Social Statistics
Co-Director of the ESRC CDT Data Analytics and Society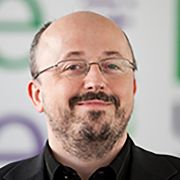 g.pryce@sheffield.ac.uk
+44 114 222 7121
Interdisciplinary Centre of the Social Sciences (ICOSS)
Full contact details
Professor Gwilym Pryce
Department of Economics
Interdisciplinary Centre of the Social Sciences (ICOSS)
219 Portobello
Sheffield
S1 4DP

Profile

Gwilym is Co-Director of the ESRC CDT Data Analytics and Society and Professor of Urban Economics and Social Statistics with the Department of Urban Studies and Planning at The University of Sheffield. He is also Co-Director of the ESRC AQMeN Research Centre and Chair of the White Rose DTC Advanced Quantitative Methods Development Group.

He was born in 1970 in Cardiff, Wales, the son of a steel worker and former miner. At age 7, he moved with his family to Goole, in North Humberside and completed his secondary education at Goole Grammar School. In 1988 he moved to Leeds to study Economics and Public Policy at Leeds Business School (LMU), from which he graduated with a First in 1991. After a year studying theology at Covenant College in the Midlands, he completed a MSc in Economics at the University of Warwick.

After a short stint at Aberdeen University researching capital charges in the NHS under the supervision of Professor David Heald, he was awarded an ESRC Research Fellowship in the Centre for Housing Research and Urban Studies, University of Glasgow in 1995. He progressed to Lecturer in 1996, Senior Lecturer in 2003 and to Professor of Urban Economics and Social Statistics in 2006.
Research interests

Gwilym's core research interests are largely in the broad field of urban economics, and most of his research publications have been on housing and mortgage markets.

His current research includes:
Publications

Books

Edited books

Journal articles

Chapters