Being part of the Sheffield Economics Society introduced me to the world of finance

Parth Chougule
Undergraduate Student
BSc Economics
Parth, BSc Economics student, sits on the Sheffield Economics Society executive committee
Why did you choose to study BSc Economics at the University of Sheffield?

During Sixth Form, I felt uncertain about which A-Level subjects to select, but I was adamant to study a subject that considers real-world problems. Hence, I decided to study Economics and I quickly developed a keen interest in Microeconomics, which led me to pursue a BSc Economics degree. Specifically, I chose to study at The University of Sheffield as it has a strong global reputation being ranked in the Top 100 in the QS World University Rankings. Sheffield itself is a vibrant city filled with friendly people and is not too far from my home in Nottingham, which makes it convenient to travel back for the holidays. In addition, there is a real variety of societies ranging from academic to cultural, which makes it easy to meet new people and to pick up a new hobby (DJing for me!). 
What do you enjoy about being a part of the Economics Society? What can other students get out of the experience?
Being part of the Sheffield Economics Society executive committee for two years has allowed me to meet a variety of diverse individuals. In my first-year, I met Shefali Patel (President) who introduced me to the world of finance and various career opportunities. After conducting further research, I decided that a treasurer position at a large society would help me stand out from other applicants when applying for competitive roles. Consequently, I was successful in the process and I learnt a great amount about budgeting and forecasting, which ensured I managed a large sum of money efficiently. Based on this positive experience, I was determined to be part of the executive committee for my final year and was hence promoted to Vice-President in an AGM. Specifically, I enjoy hosting activities and events for the members of our society. Our Summer Ball last year was a huge success. 
For students joining the Sheffield Economics Society, we have organised many fantastic events in the past as well as providing a community that works closely with the Department of Economics. I would highly recommend students to apply to a role in the executive committee as you pick up key transferable skills, such as communication and leadership skills. This would look great on your CV, which will help you stand out from other applicants when applying for competitive roles. In addition, you can mention the skills you have developed when answering competency based questions in interviews, which are frequently asked.
Why did you decide to do summer internships? What did you learn, and how did the University support you?
After I finished my first year at the University of Sheffield, I realised that the application cycle for summer internships was approaching. Not knowing where to start, I decided to talk to students in the year above about their experiences applying as well as contacting alumni from the university. After an extensive amount of research, I developed an interest in Financial Advisory - specifically Mergers and Acquisitions (M&A). After persevering through the tough application cycle, I managed to secure two summer internships. My first internship was at EY in their audit & assurance department, where I significantly enhanced my accounting skills by creating excel models to test the accuracy of financial statements. In addition, I developed soft skills that are crucial in the workplace when communicating with employees at the firm and clients. My second internship at Grant Thornton helped me further my understanding of careers in finance and solidified my passion for pursuing a career in Financial Advisory. 
I decided to do a summer internship in my penultimate year to gain valuable experience for my CV and to make my profile more competitive. As such, I leveraged these experiences when applying for graduate schemes that were more in line with my career goals. Ultimately, I was successful and managed to secure a graduate offer at KPMG in their Deal Advisory service line. The university supported me by organising networking events, such as London City Connections, where I networked with various alumni working in the financial services industry. I had the opportunity to meet investment bankers, corporate lawyers and software engineers who provided me with sound career advice and an insight into the work they do. 

What advice would you give to current and future students?
For current university students, I would advise you to join the executive committee for a society, as you develop strong interpersonal skills and meet other like-minded individuals. Depending on what year of study you are in, I would highly recommend applying for spring weeks or summer internship programmes. Graduate schemes are becoming increasingly competitive, so it is important that you have some prior experience to differentiate yourself from other candidates to talk about in interviews. It is also important to acknowledge that rejection is a normal part of life, so try to stay resilient during the application cycle so that you continue to make applications. Aside from work experience, make sure to take part in activities and any opportunities that come your way. These three years don't come again, so make sure to make most of your time!
For future students, I would recommend looking into spring weeks, which can be crucial when securing internships or graduate schemes. Spring weeks open early during the first year and it is completely fine if you are still unsure about which career you want to pursue. Hence, I would advise you to apply to firms in various industries, such as finance, consultancy and technology. After taking part in these spring weeks, you could have the opportunity to convert this into a summer internship directly.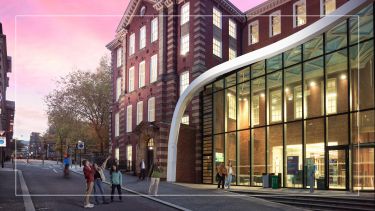 Visit us
Discover what sets Sheffield apart at our undergraduate open days on the Saturday 21 October or Saturday 18 November.