Sheffield offered the complete package

Dias Baskoro
Undergraduate student
BSc Economics with Finance
2020
Dias came to Sheffield from Indonesia and found the University offered an excellent academic experience and opportunities beyond the classroom.
Why did you choose to study at the University of Sheffield?
From the age of 10, I have always dreamt of pursuing my higher education abroad — outside of my home country, my comfort zone, in pursuit of widening my experience and horizon. The UK particularly appealed to me because of its highly-regarded reputation with a long-established history of providing exceptional higher education.
Narrowing down the list, I was looking for a place which would not merely provide excellence in its academic, but also offers some strike of balance with the opportunities beyond the classroom. The University of Sheffield was the one that ticked off all the boxes for me; it is a Russell Group University, has the No1 Students' Union, consistently top 3 for student experience nationally, and joint first place for its library services in the year I joined. The University of Sheffield truly was the place that perfectly offers the complete package where I wanted to study my undergraduate degree.
What do you think about the campus and the learning environment at the University of Sheffield?
I think that the campus buildings overall are very nicely designed and well located in the heart of the city. The mix of classical and modern architectures of the campus really adds that extra something to the University experience as a whole. This combined with the proximity of the different campus buildings to one another, as well as to the student accommodations makes it convenient for the students.
This is especially true during the winter when these kinds of factors can really be the motivation needed to attend a 9am lecture on a cold rainy Monday. In addition, having two 24 hour libraries is certainly a luxury that can be overlooked. This just adds another reason to show how encouraging and conducive the learning environment is at the University of Sheffield.
What has been your favourite module or learning experience and why?
Two modules that particularly stood out to me until this day were the Further Mathematical Methods for Economics and the Intermediate Microeconomics classes both taught by Dr Jolian McHardy. Though they differ in terms of content and areas of focus, there is a common theme that neatly ties the two.
The unconventionality in the approach to learning which really aims to sharpen analytical thinking and understanding, as opposed to memorizing. Both of these modules were structured in a similar way, taught interactively in two-hour sessions without any provision of the conventional set of 'lecture notes'.
Instead, there were these two-to-four-minute short videos called 'Microshots' effectively introducing the new concepts to be learned in each session. Since these were expected to be watched before each session, it really encouraged students to come into class with some degree of prior understanding of the materials to be covered.
Hence, all ready to dive right in, creating this very engaging class environment. It really was a unique learning experience unlike any other. A turning point where we were no longer given everything, rather just the necessary toolkits to guide our head in the right direction.
Have you done an internship during your studies? 
I have completed several internships throughout the summers of the three years course. But the one which was particularly memorable for me was when I interned at the Indonesian Stock Exchange in my penultimate year, as a Summer Analyst under their Listing Division.
To be at the heart of the capital markets of Indonesia, learning first-hand how the day-to-day workings of a stock exchange was like, was a really meaningful experience. From day one, I was immediately tasked with the responsibility to prepare daily news-run for the publicly-listed companies under monitor-formalising evaluation tables.
This was an essential part to start off each morning to keep the team updated on the latest headlines concerning the listed companies under our monitor. But as the days progressed, my responsibilities also grew along as I brought with me that inquisitive approach to learning developed at the University.
Always looking to push myself out of my comfort zone by taking initiatives. One particularly notable instance was when I came forward to assist a valuation process for a prospective IPO candidate using DCF and Multiples models, learned on the job. After arriving at the end-goal of obtaining a range of fair values for its share price, my analysis was later used by more senior staff members in further negotiations to bring down the initially proposed offering price.
Overall, the experience not only helped shape and confirm my goal to pursue a career within the financial sector, but also prepared me in a different way going back into my final year as I took on board the knowledge and skills developed through the experience.
Have you been part of a student society or sports team?
Throughout my time at the University, I was always looking for ways to enrich my experience by exploring for opportunities outside the classroom. Becoming a part of several student societies is one highlight which has really made my university experience more complete. Coming from somewhere halfway across the world to a country I have never really stepped my foot on before, I knew that I needed some sense of home. But at the same time, I also had this urge to always try to contribute something back.
The Indonesian Society really allows for both as I got elected and became VP, running and organising its events in my first year. Aside from that, being part of a student-led Investment Society in the three years of my time at Sheffield has also perfectly complemented my studies.
It really is the perfect parallel that provided the platform to channel my deep interest in Finance on a course that puts relatively more emphasis on the economics side of things. Not only that it presented the opportunity to extrapolate the things learned in class in a more practical sense, but it was also a great chance to expand my network with a group of highly-driven students sharing common interests from all the other departments of the university.
Always on the look for roles that would enable me to make a bigger impact, I also joined the committee in my second year becoming Treasurer and eventually leading the society in my final year as the President. All in all, becoming part of a student society truly was a rewarding experience where you could really learn a wide range of social and transferable skills that may not necessarily be possible in a classroom environment.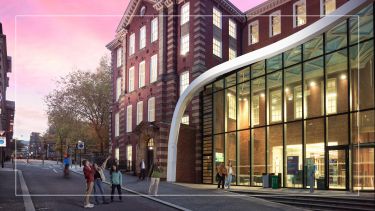 Visit us
Discover what sets Sheffield apart at our undergraduate open days on the Saturday 21 October or Saturday 18 November.