My leadership skills were recognised during my placement year

Elizabeth Kohorn-Hill
Undergraduate student
BSc (Hons) Economics with Employment Experience
During her placement year Elizabeth's work was widely recognised and valued by her colleagues at the Department for Work and Pensions, so much so she was offered a job after graduation.
What was your placement year and why did you choose that organisation?
I worked as an Economist for the Department for Work and Pensions (DWP) on Whitehall. My whole experience was amazing. I was very fortunate that I was placed in a very high profile policy area and had a wide area of responsibility in terms of my day to day workload.
As part of the Summer Budget 2015, I lead on departmental analysis for an £800 million negotiation settlement between DWP and Treasury. In recognition of this work I received a department-wide 'Leadership Award' and a number of bonuses for my contribution.
Other day-to-day tasks would frequently result in work used by Ministers, Parliament, The Prime Minister and Number 10, Treasury or Press Office and the media.
What important skills did you learn from your placement year?
As an economist in the civil service, I was primarily in an analytical role which provided many opportunities to develop a range of technical skills. One example of this is learning a coding language to use statistical analysis software to interrogate and analyse data, as well as for policy modelling purposes.
---
Over the placement year, I become the analytical lead for an area of policy my department was responsible for. This included the development and publication of two Official Statistic government publications, had meetings with Ministers and Directors to present analysis and advise on strategy.

Elizabeth Kohorn-Hill

BSc (Hons) Economics with Employment Experience
---
I developed my ability to apply logic and reason, and approach problems critically in order to find solutions. In terms of course-specific skills, I used a range of sophisticated statistical and econometric methods in order to find answer analytical questions - this involved drawing on and developing skills I had learnt during my first two years of University.
In addition to these technical skills, I also developed a range of softer skills such as project management, prioritisation, time management, communicating and collaborating, leading, presentation… the list goes on.
These are the skills that no matter what graduate jobs you apply for, employers will all be looking for these. They are also the skills that transform the final year from a slog to a simple application of the skills and mentality developed over the previous year of employment.
What are your plans after graduation? How has your course or placement year helped increase your employability?
I have secured a graduate job on the Government Economic Service Civil Service Fast Stream and will be starting back at DWP in August. I am not entirely sure what my role will be yet, but I can honestly say that I am excited to get back and see what new challenges lay ahead!
Over my year, DWP ran sessions providing information for the students about the graduate recruitment process. Further, during my application, in preparation for various stages of the process, I was able to utilise the contacts I developed over my year to check application forms, set up mock interviews (both economics interviews and competency-based interviews) and partake in mock group exercises. This was something I actively set up for myself as opposed to being a given for any ex-placement student.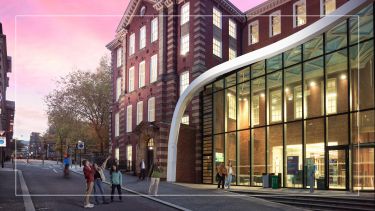 Visit us
Discover what sets Sheffield apart at our undergraduate open days on the Saturday 21 October or Saturday 18 November.