I now know what career path I might be following in the future

Mariana Lucia Montano Martinez
Current student
BA Economics with Employment Experience
2023
Mariana is a final year BA Economics with Employment Experience student. She recently just finished her placement at SMBC Japanese Bank in London.
What was your placement year and why did you choose that organisation?
During my placement year I was working in the risk management department, I was part of the operational risk team. In which we used to supervise the company's operations through data analysis in external events, KRIs and KPIs. I applied to SMBC because of its culture, the company's main objectives were equality and diversity which is something of great importance to me in the workplace. They have different initiatives to bring awareness and make the workplace safer for all employees. Additionally, SMBC is a Japanese bank and I have always been very curious about this culture. They also are a big corporation and are renowned in different industries for their services. 
What would you say to someone thinking of doing a placement year?
I think taking a placement really gives you a lot of perspective. If you are hesitant about taking a placement, you should not be!  You should go for it, it is a great opportunity, you would learn so much. I met a very talented and diverse group of people, it was incredible for me. Everyone at work has different approaches, learning from those people was like learning from first-hand experience, it is very valuable. You could only get that when you work in a placement, when you have actual work experience. 
I improved my self skills so much, such as time-management, communication and team-working skills. To me I think communication is the key to everything. To be able to communicate about your ideas, your needs and what you think should be done is something I really learned in my placement. I think this is one of the main reasons you should take a placement. 
In terms of finding a placement, I would say to look into it early. This is key in finding and securing a placement, the earlier you look the better. Because if you were rejected, you could still keep looking and thinking about what you did wrong. And do not get discouraged and demotivated, you will find one. I got rejected too but I eventually found a placement. 
The key to securing a job is your CV and the interview. The best type of CV would be short, concrete, precise in the information you put on it. My advice and tips for the interview would be to be yourself, while you show employers what you can offer to the team and the company. Then in a technical way, do some research about the company about what they do, and make it clear about why you want to work for them.
---
I feel way more confident now. I know what I like and dislike in a job.

Mariana Lucia Montano Martinez
---
What support did you receive from the Department of Economics and the university?
If you are interested in taking a placement, there are different resources available in the University of Sheffield. There is a Career Connect website, where you can subscribe and receive daily emails about new vacancies and opportunities they get from employers. Also have a look at different external websites, for example I subscribed to Targetjobs, Glassdoor, Linkedin, I was looking everywhere. The more you look the more you find!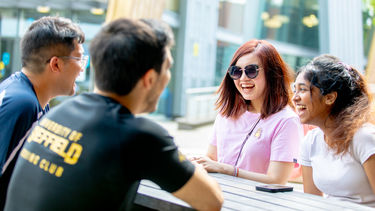 International Merit Scholarships
We offer a generous package of financial support for international students including 75 undergraduate scholarships worth £10,000 towards the annual tuition fee and 125 postgraduate taught scholarships worth £5,000 towards the tuition fee. Applications are now open for existing offer holders.