I wanted to join the Twikker Fund as I was fascinated by the world of investing

Valent Hartono
Undergraduate student
BSc Economics with Finance
Valent, BSc Economics with Finance student, is part of the University's unique student-run Twikker Fund.
Why did you choose to study BSc Economics with Finance at the University of Sheffield?
The main reason I chose to study at the University of Sheffield is because my sister was attending this university as well and the tuition fee for studying here was the cheapest out of all the universities I applied to (I missed out on the Undergraduate Merit Scholarship, still biting myself about that to this day). Aside from that, I thought the UK would be a fun place to live life as a student. I chose BSc Economics with Finance as I always wanted to make sense of how the financial market work and choosing this major allows me to understand how different factors interact with each other to explain the events happening in the economy.
What is the Twikker Fund, and why did you want to join?
The Twikker Fund is a Student-Managed Investment Fund (SMIF) based in the University of Sheffield through The University of Sheffield Investment Society (USIS). The Twikker Fund was started through a generous donation made by Steve Kiln (Alumni of The University of Sheffield) and has grown to be one of the largest SMIF in Europe with a £200k AUM and is purely managed by the student with no staff involvement. I wanted to join the Twikker Fund as I was fascinated by the world of investing and figured that I would be able to learn more about investing through gaining a real hands-on experience in running a fund. I also believed that joining the Twikker Fund will make me stand out from other candidates in finding an internship and a graduate job. The process to join the fund was surprisingly quite competitive involving a screening and an interview process.
The Twikker Fund and the friends I met there have been pivotal in me securing a summer internship and a graduate offer at Deloitte. What I like about the community in the Twikker Fund is that everyone is really passionate and ambitious about their future career prospects, not to mention the support given by members of the fund regarding job applications (special mention to William Dimitrov who always guided me with advices). Current members and alumni of the Twikker Fund have gone and landed themselves offers from prestigious financial institutions around the world such as Goldman Sachs, UBS, Societe Generale, Wells Fargo and many more.

What advice would you give to prospective international students?
If you are planning to work in the UK after graduation, start your applications early! In my first year, I did not know that a lot of companies had openings for spring weeks which may well be very pivotal in securing a graduate job. Also when you first arrive in Sheffield, do find your respective country's society, these people will help you settle down and be your friends throughout your study. Finally, it is normal to feel that living abroad by yourself is daunting, but once you step out of your comfort zone, you will learn to live independently and be responsible.

What is your favourite aspect of studying in Sheffield?
Sheffield is a very vibrant place to live in as a student. There are a lot of part-time job opportunities available for you to find some extra cash. The city is also a very safe place to live as I often come home from The Diamond late at night and have never felt afraid walking home. As an Asian, I find myself craving Asian food often and luckily there a lot of Asian restaurants in Sheffield which has really good foods. How close Sheffield is to the Peak District is an advantage for people who love to go hiking.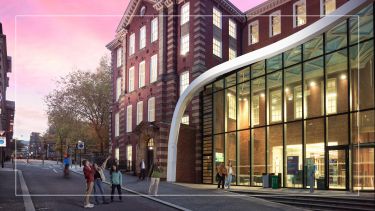 Visit us
Discover what sets Sheffield apart at our undergraduate open days on the Saturday 21 October or Saturday 18 November.