The rise of Aerospace 4.0
Aerospace has to take a more conservative approach to new technologies – failure at 30,000 feet is non-negotiable. Therefore the industry may not have been able to capitalise on the same benefits of digitalisation as less risk-averse sectors.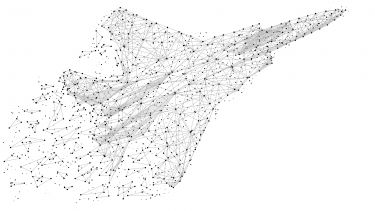 Professor Ashutosh Tiwari (ACSE) was appointed as the Airbus/Royal Academy of Engineering (RAEng) Research Chair in Digitisation for Manufacturing in 2017 to address advanced manufacturing challenges in the aerospace industry.
The focus is on establishing a unique, world-leading research collaboration between ACSE, Airbus, Sheffield Robotics and the Integrated Manufacturing Group based at the University's internationally renowned Advanced Manufacturing Research Centre (AMRC).
Professor Tiwari's vision is to develop a digitised factory. His research is structured around three themes that together, address the zero-setup (no setups for manufacturing part variants) and zero-inspection (no inspection on parts for ensuring quality) challenges in manufacturing, focusing on: digitisation of machines, human activities and manufacturing environments.
He and his team are working to develop and demonstrate highly automated and flexible manufacturing solutions that deliver a step increase in productivity of aircraft wing manufacturing and assembly.
Professor Tiwari's research on Autonomous Mobile Robots (AMR) is an excellent example of a three-way collaboration between his team, the AMRC and Airbus' team. The comparison and validation of the simulation results with the real behaviour have led to the identification of problem scenarios that informed physical testing and modifications of the AMR.
The aim is to transition this underpinning research to high technology readiness levels (TRLs), resulting in the application of successful new technologies in the aerospace industry to improve quality, productivity, cost efficiencies and flexibility.
Research to date has focused on:
Developing intelligent drilling techniques for quality assurance, contributing to Airbus' transition to electrification of its shopfloor.

Contributing to the Wing of Tomorrow (WoT) programme at Airbus through digitisation of skill-intensive tasks in wing equipping/assembly.

Developing simulation models to provide an assessment of how Autonomous Mobile Robots (AMRs) will interact with the shopfloor environment.
Flagship institutes
The University's four flagship institutes bring together our key strengths to tackle global issues, turning interdisciplinary and translational research into real-world solutions.