Research for Landscape Practice
Selected research outputs aimed at practitioners working in Landscape Architecture and related disciplines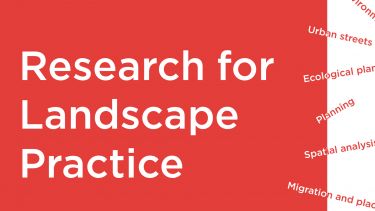 Designed Ecology 
Benefits of urban plants // health and well-being // mitigation for climate change

Gardens // wellbeing // mental health // health & horticulture
Creative Spatial Practices
Landscape history // practice of landscape design // conservation // teaching history

Sonic urbanism // landscape representation // music and landscape 

A Picturesque Vertical Montage 

This article examines the under-researched relationship between the auditory and visual sequences of spatial experience at Rousham garden, a highly regarded Picturesque landscape. It examines historic sources and broader literature against contemporary data collected on-site, arguing that conventional readings of the Picturesque underplay the multisensory nature of spatial experience of these landscapes. It then argues that this relationship could be productively analysed and represented by vertical montage as defined by Russian film director Sergei Eisenstein (1898-1948), and in re-evaluating this auditory and visual experience, provides a new understanding of the Picturesque that moves beyond the conventional notions of the pleasures of seeing. Finally, in examining how this experience is related to time, movement, tempo and sound, it creates a new method for reading and representing design features from the senses of sound and vision.

A Musicology for Landscape

Landscape representation has been hampered by the constraints of the perspective with its monocular vision, static viewpoint, visual dominance and absence of time. This book seeks to address these by drawing conceptually and practically upon the creative practice with the longest history of temporal representation, music. It argues that the rich history of notating time in music provides a critical model for this under-researched aspect of landscape architecture, whilst also ennobling sound in the sensory appreciation of landscape. This book examines three innovative 20th century musical works presenting a critical evaluation of their work within music as well as a means in which it might be used in design research. The book seeks to offer valuable insights into landscape representation and sound by bringing together musical composition and landscape architecture through notation, affording a sensitive exploration of temporality and sound in both fields. Book: Paperback, hardback and e-book

Currently working on:

I am currently working on a paper that examines the history of performed music in the early public parks through the historic design and musical archives. I focus on Sheffield for this study due to its early leading history, together with its number of bandstands, including in Weston Park, Chapeltown Park, Hillsborough Park, Endcliffe Woods Park, Meersbrook Park, together with its musical heritage. In particular I examine this topic through the prism of the city's Weston Park which having the last remaining bandstand in the city, provides a temporal and symbolic connection over time. It then explores the landscape aspects of the music performed, before concluding with a call for an enhanced role for natural sounds in future considerations of public open spaces, how they might supplement the musical history in public parks, and how this might benefit users. This article calls for not just a recognition of music and sound's historical role, but for a reconsideration of their current contribution in the context of public park design, anticipating the enhanced role for sound with the decline of the combustion engine, with new sales banned in England from 2030. 
Place, Inclusion & Equity
Long-term landscapes // policy // implementation into practice // decision-making

Urban experience // streets // visual engagement // outdoor eye-tracking

Accordion content 2.

Migration // Designing for diversity // cultural associations with nature // refugees // storytelling

New accordion content
---