Introduction to the Library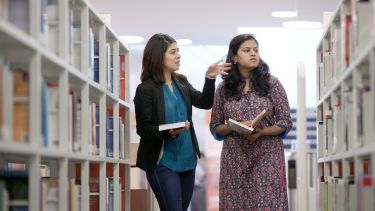 An outstanding library
With a world of knowledge and expertise at your fingertips, you'll find the Library's place at the heart of your university experience. It's a place to explore new horizons, a place to discover your passion, and a place to respond to world-challenges.
We continually invest to create the right environment for you. And whatever your level of study or area of research, we're here to help you succeed.
If you choose Sheffield, you'll have access to rich resources, outstanding facilities and support – and the freedom to do things your own way.
---
Access to the world's knowledge
You will have access to an extensive collection of digital and print resources - including over one million e-books, 60,000 journal titles, open access material and 1.1 million print volumes.
These collections support learning and research, both on-and off-campus.
Covering the full range of academic subjects, our collections span everything from accounting to zoology and architecture to popular culture.
You can access our digital collections from anywhere.
We take your future ambitions seriously. That's why we invest every year in the right e-books, journals, databases, and books, making sure you have all the resources and inspiration you need.
---
Flexible learning spaces
Our flexible learning spaces offer environments to support changing student or researcher needs. 
Study spaces and computers are readily available so you can make the most of your time.
The Library spaces are designed entirely around you – providing the environment you need to live your best university life.
---
A supportive environment
Our libraries aren't just about books, although we do have a lot of them. We're also about people.
You'll develop your knowledge in our supportive environment, with the approachable library staff, available virtually or on-campus.
The Library has a great team of dedicated, professional staff who are highly regarded in their fields of expertise. All of them are committed to helping you.
---
Enabling world-class research
We work across the University to provide a range of services to support our diverse research community in all aspects of the research lifecycle.
Our experts will help you to plan your research and to facilitate open research practices sharing your publications and data and enhancing your research profile.
---
Our mission, our vision and how we support the University
Inspiring intellectual discovery and learning is core to our mission. We offer engaging experiences with people and content that enrich the University's learning and research communities - in both physical and digital spaces.
The Library has an enduring impact on both the student and researcher experience.
A world top-100 university
We're a world top-100 university renowned for the excellence, impact and distinctiveness of our research-led learning and teaching.