Who is that clown? Researching Victorian circus photographs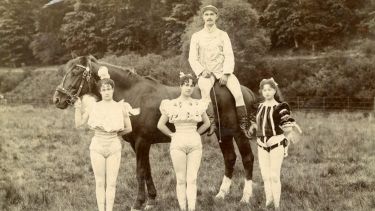 Sanger's Circus was arguably one of the most pre-eminent and famous circuses in the Victorian era. The Sangers created a circus dynasty, produced, and travelled many different types of circuses through different branches of the family. This collection of photographs offers an extraordinary glimpse into the everyday life of these circus people.
My job is to digitise and publish information on these photographs on our online portal, NFCA Digital.
I have some basic biographical information on the Sanger Circus family but in no way am I an expert on Victorian Circus. So just where do I start?
Well, I start by looking at the photographs for any clues. It looks like somebody has written on the front of some of them in biro. (A note for readers: this a major no-no in archival circles. However, it is acceptable to write in soft pencil on the back of a photograph. Unlike ink, pencil is reversible and shouldn't cause damage. Writing in pencil on the reverse will also not affect the appearance of the photograph. Archives would generally only write a discrete identity number on the back but for your own personal photographs, it is a useful way to retain information for the future).
The writing may offer some clues as to who some of the people in the photographs could be.
Another collection item that may be of help with this detective work is a circus programme listing acts for a performance of 'Lord' George Sanger's Circus circa 1900 (Sanger wasn't really a Lord, it was a title he decided to give to himself. His brother John liked this idea too and also titled himself 'Lord').
I decide to cross-reference these sources of information by looking at the autobiography of 'Lord' George Sanger Seventy Years a Showman published in 1908. This features many fascinating anecdotes from the author's life story but it was written by a showman of the greatest order, who was prone to exaggeration and tall tales.The book has very few images, although George Sanger himself is shown. Is it a reliable source of information? We will have to see.
In addition, I also find information in the Circus Friends Association publication King Pole which features a special article on 'Lord' John Sanger. Most notably the article features family trees on both John and George's branches of the family.
Further help is acquired from the University of Sheffield expert historian Professor Vanessa Toulmin who kindly shares some of her unpublished research with me. I also have access to research by the late John Turner whose two volumes of a Victorian Arena: The Performers: A dictionary of British Circus Biography coupled with his database prove invaluable. These sources add more meat to the bones but I also become aware of inconsistencies in the database that I need to treat with caution.
After digitisation, the digital images are put on to the cataloguing system. Some records have notably more information and some have very little at all. I begin to recognise familiar faces and can now name a few of them on sight. Some of these people are finally beginning to come alive to me.
Their stories slowly begin to emerge.
Quite a few of the photographs feature a female performer, possibly an acrobat or aerial performer. One of these photographs has, what I think is the word 'Jetta', written on the front. A search on the internet reveals nothing. It is only when I happen upon a sentence in a book The Sanger story: being George Sanger Coleman's story of his life with his grandfather 'Lord' George Sanger by John Lukens that I find a reference to Yetta Schultz. It mentions Yetta (Jetta) being trained in tightrope walking by George Sanger himself. Eureka moments of discovery like this are very exciting but still rare. 
The next stage of research is a stroke of luck.
The National Fairground and Circus Archive receives an invitation to interview a descendant of George Sanger himself. The descendant is in her nineties, both her parents were travelling circus performers and she spent much of her childhood living with her grandparents. They were also contemporaries of some of the people featured in the Victorian photographs from our collection. As I present copies of some of the photographs, thrillingly she starts to point to individuals and offers names. She also has similar photographs and recalls discussing these with her grandparents during her childhood.
Further names emerge from the past: equestrian performers Harry and George Austin; clown and acrobat George Holloway; equestrian Kate Holloway; clown James Holloway; equestrian Ellen 'Topsy' Coleman; equestrian and music hall performer Marie Reeves… The names go on.
I search for references in nineteenth-century newspapers at the British Library to help with dates. I am also lucky in receiving information from another Sanger relative and another from a local historian. Further, the Library is trialling Ancestry.com and through this I obtain census returns including the whole of 'Lord' John Sanger's circus, recorded in a moment of time whilst travelling in Cheshire. I also am able to cross-reference some of the information with other Sanger material in our collections.
Throughout this project, I have steadily expanded my knowledge on the Sanger Circus family and on Victorian Circus in the UK. I have become drawn into a little known but exciting world of spectacle and wonder and I am totally hooked. I have experienced the contrasting emotions of frustration and revelation. However, I still feel that I have only scratched the surface, as there are still so many performers to be identified, stories to be told and endless questions still to be asked. However, I'll have to leave that for other researchers, students and academics to discover.
Here is a link to the records that I have managed to create so far (but if any of you know who this clown is I'd be grateful for your help).
Andrew Moore – Digital and Exhibitions Officer
For more like this piece, check out our Unique and Distinctive Collections blog pages!