Dr Lawrence Dunn
Department of Music
Teaching Associate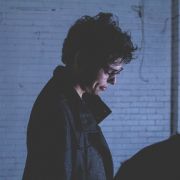 lawrence.dunn@sheffield.ac.uk
Jessop Building
Full contact details
Dr Lawrence Dunn
Department of Music
Jessop Building
Leavygreave Rd
Sheffield
S3 7RD

Profile

I am a composer, improviser, arranger, pianist and percussionist, and have written music for a variety of musicians across Europe and North America. I'm currently Teaching Associate in Composition, contributing to the Orchestral Technique and Composition modules. I aim to foster as open-minded an approach to musicmaking as possible. How is music created? How can we explore music as a phenomenon by creating it? I'm interested in the possibility of 'making music from scratch' – but also in how music is embedded within history and institutions, and what we might do about this.

I began playing music by improvising, and maintain a strong interest in improvised music. I later studied at Trinity College of Music and Cambridge, and completed a Doctorate at the University of Huddersfield. I've also worked as a schoolteacher, and am currently also Composition Tutor at the National Youth Orchestra of Great Britain.

Recent projects have included a new piece for Ensemble Modern, premiered in Frankfurt in March 2020. Groups I have worked with include Plus-Minus, Apartment House, Slagwerk Den Haag, Quatuor Bozzini, Insomnio, and the BBC Scottish Symphony Orchestra. I have been featured at festivals such as London Contemporary Music Festival, Gaudeamus Muziekweek, Huddersfield Contemporary Music Festival, Tectonics Glasgow. A work for soprano Juliet Fraser was included on her recent release with Huddersfield Contemporary Records.

Forthcoming projects in 2021 include a new piece for violins and pre-recorded sound,
commissioned by Ilya Gringolts and Ilan Volkov; and a new work for Explore Ensemble.
Research interests

Experimentalism, melody and harmony, memory, cultural institutions.