Henry Royce Institute helps drive Sheffield Formula Racing team into the UK's Top Ten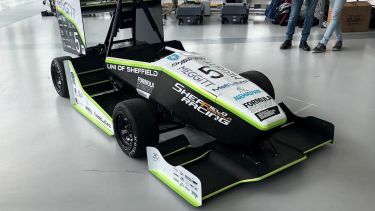 Formula Student is an annual educational engineering event offering undergraduate engineers real-world experience in the motorsport industry by having them design and build a prototype single-seat racing car. Each year, Formula Student sees over 100 university teams from around the globe travel to Silverstone to compete in static and dynamic events that test every aspect of their car.
Sheffield Formula Racing Manufacturing Director Sam Williams – a third-year Mechanical Engineering student – approached Royce@Sheffield to manufacture some parts for the car. Henry Royce Institute Research Associate Dr Everth Hernández-Nava worked with Sam to advise him on the most appropriate materials to use, and the best manufacturing methods for the parts.
Having discussed the options, the Sheffield Formula Racing team chose additive manufacturing (3D printing) to create their titanium components, because of the complex topologies in their designs. They opted to print the parts on the Henry Royce Institute's Arcam Q20 Plus, an industrial-scale 3D metal printer that uses a powder-bed fusion process with electron beam technology.
This process is ideal for creating titanium components with required mechanical properties where limited production times and minimum post-processing (in other words, rapid prototyping) are required. Electron beam melting is the ideal 3D printing method for this because it preheats and melts powders, processing materials at high temperatures which reduces residual stresses and the need for post-heat treatments. This meant that the components for the car could be used almost immediately, requiring only minimal post-machining. With a build size of 200 mm x 300 mm, the Arcam Q20 Plus was able to manufacture all components simultaneously.
The team took their finished car to Silverstone for the 2019 competition from 19-21 July, where they finished 14th overall, and 9th out of the UK teams. Congratulations, Sheffield Formula Racing! We look forward to working with you again in 2020.
Connect with us
Let's work together to develop the next generation of materials for a sustainable world.
Contact us by email or find us on Twitter and LinkedIn.
Flagship institutes
The University's four flagship institutes bring together our key strengths to tackle global issues, turning interdisciplinary and translational research into real-world solutions.