Thermomechanical Processing
Thermomechanical Processing is a key research activity for the Henry Royce Institute.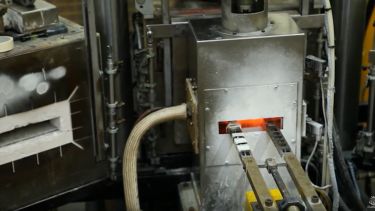 Royce hosts capabilities which give researchers and industrial partners open access to pilot scale experiments in unique rolling and continuous extrusion equipment.
Former wastes, such as powder from near-net-shape production or swarf from machined components, can be converted to useful wire by extrusion.
These processes offer new, unique pathways in the processing of novel alloys, or valorisation of waste streams for new recycling and sustainability models in metal manufacturing.
AMP Engineering Lead (Thermomechanical Processing): Dr Will Pulfrey
William Pulfrey joined the Henry Royce Institute in 2022 as an Advanced Metals Processing Engineering Lead specialising in Thermomechanical Processing.
Based within the Department for Materials Science and Engineering at The University of Sheffield, Will is manages two main rigs; (includes; design of experiments, testing and maintenance) Two-High 136 Tonne Hot Rolling Mill and Continous Rotatry Extruder (Conform). Mostly recently, R&D focus includes automotive and nuclear applications. 
Prior to this, Will completed a PhD in Tribology at The University of Sheffield, sponsored by Jaguar Land Rover, focussing on the drivetrain development. Will has also obtained a  first class honours degree in MEng Mechanical Engineering at Sheffield Hallam University.