Near Net Shape Manufacturing
Near Net Shape Manufacturing is a key research activity for the Henry Royce Institute.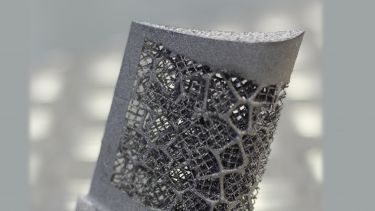 Near Net Shape Manufacturing
Through our world-leading facilities - Royce Discovery Centre and Royce Translational Centre - our capabilities enable industrial and academic communities to explore and expand metal technologies.
Near Net Shape Manufacturing offers more efficient material usage, and can significantly reduce machining requirements to better meet national challenges in sustainability, recycling, and the circular economy. These processes can offer greater flexibility, previously inaccessible structures, and reduced costs for the next generation of complex components. 
For Royce at the University of Sheffield, the capabilities enable UK industrial and academic communities to explore and expand metal technologies related to powder, wire, and melted ingot routes. This relates to leading and popular Additive Manufacturing techniques such as Selective Laser Melting and Electron Beam technologies. 
 
Royce hosts equipment to deliver emerging processes such as Field Assisted Sintering Technology/Spark Plasma Sintering (FAST/SPS), as well as wire fed Directed Energy Deposition processes, and hybrid processes using post-process hot forging. 

Additionally, the loop between feedstock and Near Net Shape components is closed within Royce - with a range of powder production facilities for use with alloys discovered/manufactured on equipment from other Technology Platforms.
The University of Sheffield is uniquely positioned as a Centre for Solid State Processing Excellence with our facilities openly accessible to industries and researchers.
 
Download our brochure to find out more here.
Advanced Materials for a Sustainable Society
Dr Kathy Christofidou demonstrates the FAST-forge process which uses large amounts of titanium that would otherwise go to waste to create lightweight alloys, greatly reducing waste and emissions.
Technology Platform Lead: Dr Robert Deffley
Robert Deffley joined the Henry Royce Institute in Sheffield in April 2018 and brings a wealth of experience to the team, having previously worked as Research and Development Manager at a leading UK materials provider in the metal additive manufacturing (AM) industry. 
This work has involved collaborating with industry in the aerospace and medical sectors to find solutions to the wider adoption of AM.
AMP Engineering Lead (Additive Manufacturing): George Maddison
George Maddison joined the Henry Royce Institute in 2022 as an Advanced Metals Processing Engineering Lead specialising in Additive Manufacturing.
George is also currently working towards a PhD focussed on the Additive Manufacturing of Nickel Superalloys using In-Situ Process Monitoring and Control Techniques, within the Department of Materials Science and Engineering at The University of Sheffield.