Imaging & Characterisation
Imaging and Characterisation is a key research activity for the Henry Royce Institute.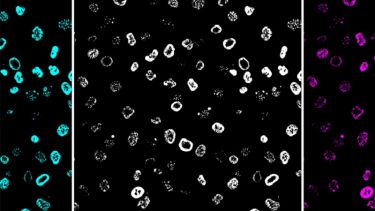 Imaging & Characterisation
Through our world-leading facilities - Royce Discovery Centre and Royce Translational Centre - we are able to probe the structure, composition, and mechanical properties of all materials.
The Henry Royce Institute Imaging and Characterisation facilities at The University of Sheffield host state-of-the-art equipment able to probe the structure, composition, and mechanical properties of all materials from macro down to nanoscale.
The Royce Discovery Centre holds 6 laboratories which are open to the UK industrial and academic communities:
 Basic Characterisation,
Advanced Characterisation,
Materials Chemistry,
Radiochemistry,
X-Ray, and
Nano Characterisation,
Hosting equipment able to carry out high-quality characterisation on novel materials.
The Researcher Concordat and The University of Sheffield
Dr Alice Pyne, Future Leaders Fellow, Head of our Nano Characterisation Lab, and Senior Lecturer, shares what the Researcher Concordat means to them.
FAIR Case Study: TopoStats Software
Dr Alice Pyne discusses the TopoStats software her team created to analyse changes in DNA structure, and how making it open and accessible has benefitted her field.
Head of the Nano Characterisation Laboratory: Dr Alice Pyne
Alice is a Senior Lecturer in Polymers & Soft Matter and head of the Henry Royce Nanocharacterisation laboratory.

Her research focusses on developing high-resolution Atomic Force Microscopy (AFM) imaging methods for structural characterisation of biomolecules in solution. She has pioneered single-molecule imaging studies of the DNA double helix, including unique time-resolved imaging at the atomic scale, showing DNA molecules twisting and "dancing" in ways that had not previously been imaged.

Alice has a keen interest in bioimage analysis, and has developed an automated image analysis pipeline, TopoStats, that combines AFM image correction, molecule identification, and tracing into a single tool.