Royce Translational Centre
Royce at the University of Sheffield is equipped with two state-of-the-art facilities to assist in the acceleration of university and industry ideas through to an industry production scale in order to meet global challenges.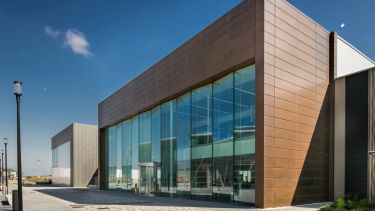 On
Over two purpose-built sites – the Royce Discovery Centre and the Royce Translational Centre – our dynamic team of engineers support a vertically integrated factory that can produce new alloys through to near net shape products through both solid and liquid processing.
---
The Royce Translational Centre acts as an open access centre of excellence, incorporating both new and existing state-of-the-art powder manufacture and processing facilities.

The Centre enables the University of Sheffield to lead on advanced powder manufacturing and processing to transfer knowledge and experience, gained from working with industry, to SMEs active in the healthcare, energy, oil, and gas, manufacturing and engineering supply chains. It evolves novel materials and processing techniques developed by research teams, making them accessible for trial by industry. 
If your business operates within the manufacturing and engineering supply and value chain, the Royce Translational Centre provides direct access to emerging technologies.

This allows a measured assessment of the applicability, and threats to, existing markets that these technological advances present, and drives specific research activities which provide direct benefit to your business as the outcome.
For some, the state-of-the-art facility offers R&D options that would previously have been inaccessible. For others, the Royce Translational Centre enables businesses to perform speculative research so that in-house research facilities can remain focused on processes that are closer to market. 
Once proven, your company can invest in these manufacturing processes with the confidence that value is added to both your business and your customers.
---
Explore our state-of-the-art facilities through the virtual tour.
---
The Royce Discovery Centre and the Royce Translational Centre work in tandem with the Engineering Faculty facilities to further enhance the University of Sheffield's status as a world leader in the science and development of materials processing.
---
Royce Translational Centre, Sheffield Business Park, Europa Ave, Tinsley, Sheffield, S9 1ZA
Royce Discovery Centre, Harry Brearley Building, 5 Portobello St, Sheffield, S1 4ND
Connect with us
Let's work together to develop the next generation of materials for a sustainable society.
Contact us by email or find us on Twitter and LinkedIn.
Flagship institutes
The University's four flagship institutes bring together our key strengths to tackle global issues, turning interdisciplinary and translational research into real-world solutions.