Materials Discovery & Prototyping
Materials Discovery and Prototyping is a key research activity for the Henry Royce Institute.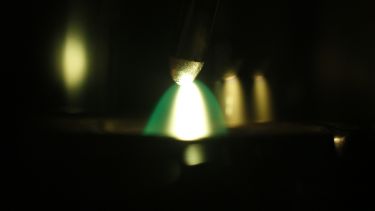 Materials Discovery & Prototyping
Through our world-leading facilities - Royce Discovery Centre and Royce Translational Centre - we are able to capture all stages of discovery and prototyping.
Alloy development is where traditional industries and researchers alike look to new materials to meet the challenges posed in the transition to zero carbon, sustainable manufacture, and fostering a circular economy. 
Over two purpose-built sites our dynamic team supports all stages of discovery and prototyping from:
Production, through to
Processing,
Testing, and
Characterisation.
These have been successfully used in the production of most engineering alloys and development materials, including steels, high temperature super alloys, and refractory metal alloys, as well as high purity Ti powder, and their powders. 
Previously inaccessible methodologies for accelerated alloy development are unlocked through close synergy with the Near-Net Shape Manufacturing platform. Manufacturing routes can be optimised through collaboration with the Thermomechanical Processing platform. Novel sustainability and recycling protocols are also explored by considering a holistic approach to cross-industry alloy development. 
AMP Engineering Lead (Materials Discovery & Prototyping): Dr Yunus Azakli
Yunus Azakli joined the Henry Royce Institute in January 2019. He specialises in advanced metals processing via melting, casting, and thermomechanical treatments.

Yunus has worked on alloy preparation and development since 2012 and has a PhD degree in Materials Science & Engineering from Gebze Technical University. 
Royce Discovery Centre Launch 2022
Dr Kathy Christofidou discusses the vision for the Royce Discovery Centre at the official launch, 2022, in partnership with the Royce Institute and The University of Sheffield, part-funded by EPSRC.