Using 'Waste' Powders to Create Parts for Lightweight Vehicles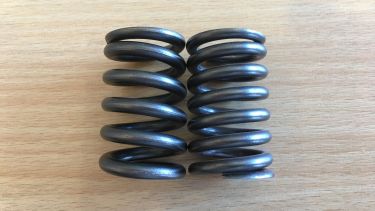 ---
CONTEXT
The Conform™ operates as a continuous metal extrusion process, initially developed as an alternative recycling route for old electrical wiring. Copper and aluminium electrical conductors would be stripped and cleaned before being chopped into pellets and fed into a Conform™ machine. 

The friction between the extrusion wheel and feedstock creates a substantial amount of heat and pressure, softening the metal and allowing it to bond together before being extruded through a forming die into a profile. 

The Conform™ process quickly expanded to allow the continuous re-forming of rod feedstock into new profiles, with solid rod feedstock dominating current commercial Conform™ applications. Continuous extrusion lends itself to the production of non-ferrous long products such as: copper magnet wire, trolley wire, pipe, busbar and aluminium multi-port heat exchangers, evaporators, and wire-cores. 
---
BACKGROUND
While Conform™ machines are installed globally, there has been limited research into the process with the focus of increasing its potential for non-traditional markets. 

Over the last decade, researchers at the University of Sheffield have pioneered the use of continuous extrusion to reprocess metals that are much harder to form; in particular, titanium and its alloys. The team, lead by Prof. Martin Jackson, successfully extruded titanium wire and strip from commercial and novel titanium powders with extremely high densities and tensile strengths, surpassing that of conventional titanium wire. 

The team demonstrated intimate knowledge of: the mechanics of Conform™, understanding of the flow of different powder materials within the machines, and the ability to fully simulate the extrusion process. Through this expertise, it was possible to expand into previously unexplored metal alloy systems. 
---
OVERVIEW
More recent projects have now demonstrated that the process can be further extended to allow the recycling of out-of-spec powders from additive manufacturing [3D printing]. Additive manufacturing processes each require specific sizes and shapes of powder to allow consistent flow within the printing machines.

Unfortunately, the powder creation processes involving gas atomisation or plasma atomisation produce particles over a much wider range of sizes. To combat this, powders are sieved and separated before being distributed to customers. The largest and smallest powders are unsuitable for additive manufacturing as they flow poorly, and result in parts with unacceptable mechanical properties. 
These 'waste' powders are then sent for re-melting, and in the case of titanium, are often used in lower quality applications such as steel making additives. It was discovered by the team that the Conform™ process is incredibly tolerant of powders with poor flowability, in fact in most cases, it is preferable to use larger particle sizes with 'poor' morphologies. 
---
IMPACT
An application of particular interest is recycling titanium particulate into parts for road vehicles. 

Despite the large quantity of titanium ores in the Earth's crust, it is difficult and expensive to process this into pure metal and alloy forms. The good balance of strength-to-weight and corrosion resistance make titanium perfect for high performance applications such as those in: aerospace, defence, and petrochemical. These same properties make titanium highly desirable for automotive manufacturers in light-weighting of vehicles to improve fuel economy and reduce emission levels. 

The actual use of titanium parts is severely limited by the high cost involved, which the impacts on the potential emission reductions possible. Even with the development of electric vehicles, lower cost titanium parts can still be utilised to improve vehicle range. Conform™ offers considerable cost savings due to its continuous nature, and preference towards lower cost feedstocks.
The BWE Conform™ 315i machine, currently situated at the Royce Discovery Centre, aims to expand on the work conducted by Prof. Martin Jackson and his team; bridging the gap between lab-scale equipment and the largest extrusion machines. 

BWE Conform™ 315i offers low tooling costs, fast heat up times, and high temperatures, making it ideal for the research and development of new extrusion profiles with novel materials. Further research into Conform™ technology within Royce at the University of Sheffield encompasses all aspects of the process, from novel feedstocks to tooling geometries and materials, building on existing expertise in the Advanced Metal Processing theme. 

The Conform™ technology will be brought to the forefront of the 21st century, with research grade data acquisition and control methods, not normally available to commercial machines. 
---
Connect with us
Let's work together to develop the next generation of materials for a sustainable society.
Contact us by email or find us on Twitter and LinkedIn.
Flagship institutes
The University's four flagship institutes bring together our key strengths to tackle global issues, turning interdisciplinary and translational research into real-world solutions.