Recharged: Attendees buzzing after Advanced Characterisation of Energy Storage Materials workshop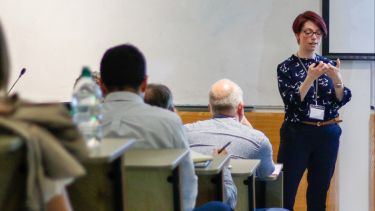 Featuring thirteen of the UK's leading experts from academia and industry, the talks explored the application of advanced X-ray techniques and beyond in the characterisation of the next generation of lithium- and sodium-ion battery materials.
Speakers from Malvern Panalytical discussed the latest characterisation techniques, including operando XRD analysis of lithium-ion battery cathodes, laser diffraction, and rheometry. They also presented their Morphologi-4 instrument and its applications for battery materials.
Academics from Oxford, Birmingham, Lancaster, and the Diamond Light Source joined researchers from Sheffield to complete the day's programme.
Delegates attended from a broad variety of industrial sectors including automotive, energy, and chemicals, as well as from fourteen different academic institutions.
I thought it was a really excellent day. The talks were highly relevant, and nicely pitched to be accessible to the general audience. Many of my group attended and it gave them an excellent picture of the diverse range of techniques and expertise that is being brought to bear on energy materials to build the next generation of devices."

Dr Eddie Cussen

Reader at the University of Sheffield
Dr Robert Taylor, from Malvern Panalytical, said the workshop was "a very well attended seminar with a broad range of engaging topics covering battery materials, their characterisation, application and production. The location and facilities were excellent and the day was well organised too. This is one of the most important scientific topics of our time with profound environmental consequences for us all."
Guest speaker Dr Nuria Tapia-Ruiz said it was an "excellent workshop filled with insightful talks and discussions on advanced battery characterisation methods".
Organiser Dr Nik Reeves-McLaren, a Research Fellow at the University of Sheffield, added that "it was an honour to host the community, and show off the Henry Royce Institute's new Malvern Panalytical Empyrean X-ray diffractometer and give a taste of its exciting operando electrochemistry capabilities. This really puts Sheffield on the map and we are open for business - I look forward to working with partners from academia and industry to help solve their energy storage materials issues!"
The Henry Royce Institute in Sheffield welcomes industrial partners to co-host events relevant to their major theme of Advanced Materials Processing. If you'd like to discuss this opportunity, please contact Royce@Sheffield.ac.uk.
Connect with the Henry Royce Institute
To discuss how we could work together to develop the next generation of materials for a sustainable world, contact us by email or find us on Twitter and LinkedIn.
Flagship institutes
The University's four flagship institutes bring together our key strengths to tackle global issues, turning interdisciplinary and translational research into real-world solutions.