Scientists develop 'probiotics' to help plants fight disease without pesticides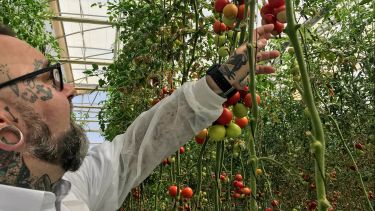 University of Sheffield experts to uncover how beneficial bacteria in soil support plants' immune systems
Research aims to develop plant 'probiotics' that help crops fight diseases and pests without the need for pesticides
Innovative approach could support farmers to grow tomatoes and soft fruits year-round and in urban areas
Enhancing a plant's immune system with 'probiotics' could help it to fight off pests and diseases without the need for pesticides, according to scientists at the University of Sheffield.
Experts at the University's Institute for Sustainable Food have launched a study, funded by a £1.5 million grant from the Biotechnology and Biological Sciences Research Council, into how beneficial bacteria protect plants' health – in a similar way to gut bacteria in humans.
With concern about the impacts of pesticides on human health and the natural world growing, and disease resistance leading farmers to increase their use, the team is hoping to find a chemical-free solution.
Today, many fruits and vegetables – particularly tomatoes and soft fruits like strawberries – are grown hydroponically (without soil) in vast greenhouses and polytunnels covering 948 hectares in the UK. This enables farmers to grow high-value produce out of season – but because the plants are grown in sterile conditions, any diseases that do find their way inside can devastate entire crops.
By introducing beneficial bacteria to these greenhouse environments, the University of Sheffield scientists hope to prevent these outbreaks – helping to improve productivity and avoid food waste.
Looking at tomato plants, the team will use a combination of genetics and biochemistry to gain a thorough understanding of how roots interact with beneficial microbes in soil. This knowledge will then be applied to develop plant versions of probiotics – methods of adding good bacteria to growing systems that will support the tomatoes to fight off pests and diseases using their own enhanced immune systems.
Scientists at the Institute for Sustainable Food have already developed synthetic foam 'soils', which can grow two to 10 times more produce than natural soil, relieving pressure on agricultural land and increasing the potential for urban farming. By injecting these probiotics into the foam, they hope to create ideal growing conditions for a whole range of herbs, fruits and vegetables to be grown year-round.
Scientists have learned a lot in recent years about how beneficial bacteria in our guts keep us healthy – and we believe the same is true for plants.

By investigating how tomato plants interact with good bacteria in the soil through their roots, we hope to be able to develop plant probiotics to boost their immune systems and help them fight diseases without the need for harmful pesticides.

Coupled with our synthetic foam soils, this completely new approach could help farmers to grow healthy and sustainable fruits and vegetables out of season and in the urban areas where most people live."

Professor Duncan Cameron

Director of the Institute for Sustainable Food at the University of Sheffield and principal investigator of the study
---
Contact 
Sophie Armour, Media & PR Officer at the University of Sheffield: 07751 400 287 / 0114 222 3687 / sophie.armour@sheffield.ac.uk
Flagship institutes
The University's four flagship institutes bring together our key strengths to tackle global issues, turning interdisciplinary and translational research into real-world solutions.