Team SunrIde set a new national altitude record for the UK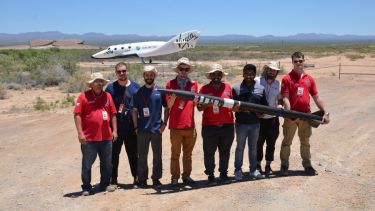 Team SunrIde is a student-led rocket design team overseen by Academic Lead Dr Viktor Fedun from ACSE, and this year they took part in the third annual Spaceport America Cup 2019 - an international rocket engineering competition open to student rocketry teams - with their own design of rocket. The rocket was named after Helen Sharman, an alumna of the University of Sheffield and the first British astronaut.
The team competed against more than 120 university teams from across the globe in the 30,000ft Commercial Off-The-Shelf (COTS) category. The students had to design, build and test a rocket, as well as develop all the control systems related to stabilisation and ground station communication. Systems and control engineering design, technical, scientific and innovation skills were tested in full on launch day when the team successfully launched and recovered HELEN.
The team achieved an altitude of 36,274 ft - a new UK record, so congratulations to the team on this fantastic achievement! While in flight, HELEN reached a maximum speed of Mach 2.67 with an acceleration of 29G.
This achievement follows last year's success in the same competition, really cementing the University of Sheffield's reputation as leaders in student rocketry.
For more pictures, video and information, check out SunrIde's Facebook page.
Vishan Nair, a fourth-year mechanical engineering student at the University of Sheffield and Project Lead of the SunrIde Rocket Team, said: "Setting a new altitude record for the UK has been our aim since we started designing the rocket at the start of the academic year. I'm massively proud that we have fulfilled this amazing feat.
"This would not have been possible without the amazing team of student engineers, scientists, academic representatives, technicians, staff members and our corporate sponsors that have collectively helped us to break these boundaries, despite only being just under its 2nd year since Sunride's inception.
"I'm super proud of the team and would like to thank all of them from the bottom of my heart. Without those late nights, the countless meetings throughout the year, and them balancing their studies with this project on the side, this wouldn't have been possible.
I strongly believe that SunrIde has the potential to evolve into the leading rocket engineering programme in the UK. Sheffield is in a unique spot in the UK for consistently and continuously breaking boundaries in UK's student rocketry. With a great influx of support from the different departments and High Value Manufacturing facilities in Sheffield, we can truly define ourselves and be at the forefront of rocket engineering in the UK."
---
Abdullah Ayyadh N Alsulami, a Masters student in ACSE and Team SunrIde's Avionics engineer, said: "Working on project SunrIde is a great opportunity for young students. It's a multidisciplinary project which resembles professional work. I learned different skills, both technical and soft - I learned about aerospace, mechanical, and structural engineering. I also learned the value of systems engineering, requirement analysis, interpersonal skills and problem-solving. I believe that project SunrIde is the seed for a strong space research group to participate in space exploration".
---
Georgios Rontogiannis, second-year BEng/Mech engineering, SunrIde Team member added: "In the second year after the realisation of SunrIde, I stand here impressed by the amount of quality research, work, and restless effort of the team members and the academic staff. It's great really, to observe the wide image of what is happening here; students breaking the barriers of UK rocketry and getting thirsty for more. The academic advisors and departmental staff are there to nourish this thirst every step of the way, and the faculty of engineering along with numerous industrial partners provide the means to support this process, one that seems like a distant dream to most of the aspiring young engineering students of the world. Proud of our achievements, I can't wait to return to work with the continuing members of this brilliant team, and our new exceptional recruits and to be mentored by our experienced alumni on our way to break even more barriers.
"The idea of this competition is far greater than just dozens of teams launching rockets once a year. I want to refer to a few of my experiences from this year's competition. Firstly, I was happy enough to be warmly welcomed by all the teams that competed last year prior to this one and remembered SunrIde, the team from Sheffield that earned the James Barrowman award. Secondly, I once again enjoyed the exchange of engineering ideas and practical solutions to some very and some not so ordinary engineering problems. As a third, I got a taste of what volunteering can do. The efforts of the volunteer judges and competition staff were tremendous and overall everywhere you looked you could see well-organised facilities and smiling faces. Last but not least, I took a taste of the privilege offered to us just by being part of the couple of hundred students of the world to compete. The space industry is "hugging'' this competition, with industrial leaders coming to experience this phenomenon with their own eyes and to literally invite these students to work for them. Can't wait to get back there!"
---
Arsheen Mir, a Masters student in ACSE, added: "SunrIde gave me the opportunity to extend my passion and skills in electronics design and circuit building to a domain I never imagined myself enter – rocketry! As a member of the avionics team, I and my fellow teammates were responsible for the parachute deployment to ensure safe landing and telemetry system to track the location of Helen during and post flight. This involved analysing the requirements, circuit design and soldering and designing the avionics bay. It has been a wonderful experience being a part of a hardworking and dedicated team, being able to learn and develop ideas and be able to contribute to a rocket which reached an apogee of 30k ft!"
---
Dr Gary Verth (SoMaS), "This is a great credit extracurricular efforts of all our multi-national and multi-disciplinary team, not just the members who were fortunate to be at the launch. To recognise this all students involved in SunrIde will be credited for their individual contributions to the team's success on their Higher Education Achievement Reports (HEAR). Although we only established the SSI in 2017, it has already proved successful in attracting STEM students from around the world, like SunrIde team leader Vishan, who specifically want to get involved with our space science and engineering projects at undergraduate and masters level. For example, this year the non-UK members of our SunrIde team were from Romania, Greece, Russia, Ghana, Saudi Arabia, Jordan, India and Malaysia."
---
Dr Viktor Fedun (ACSE) says: "Sheffield Space Initiative projects open new horizons for our students. Their participation helps them to apply knowledge gained in the university to real-world, complex problems. It teaches them to find the most efficient solutions, work in teams and collaborate with external companies: all while adding exceptional value to their degrees. Team SunrIde's achievement is brilliant. They're a strong team, made up of students across different engineering and science departments. It shows how well they've worked together to get a new UK record and placed ACSE and whole university as the number one in UK rocketry. We are confident now that in the next few years we will be able to go to space!"
Undergraduate scholarships
Our department offers financial assistance in the form of scholarships and bursaries, in addition to the scholarships offered by the University of Sheffield.
A world-class university – a unique student experience
Sheffield is a research university with a global reputation for excellence. We're a member of the Russell Group: one of the 24 leading UK universities for research and teaching.