Yvette A Marks
MSc
Department of Archaeology
Laboratory Manager and Teaching Technician (Archaeological Science)
Departmental Safety Officer
Research Ethics Lead
Thesis- The inception and transmission of metallurgy: A regional approach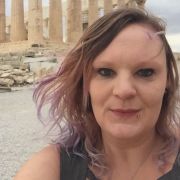 Profile

I am Material Scientist, with a focus on reconstructing Ancient Technologies and Metallurgy. I use a holistic approach to my research combining Research, Analysis and Experimental Archaeology. I started my Archaeological career whilst completing my first degree in Classical Studies at the University of Liverpool. During which I carried out training excavations, which led to me becoming a field archaeologist when I finished my masters. I continued my studies at Liverpool and completed an MA in Archaeology during which I focused on Material Culture and Analysis. It was during my studies at Liverpool that my interest in metals, specifically their production, began. 

During my degree I had an interest in the material culture of Ancient Greece in particular, this led to my attendance at the British School at Athens (BSA) Summer School. During this course I became fascinated with the Bronze Age period in the Aegean, which led to my current area of specialism; metal production in the Bronze Age Aegean. I have continued my relationship with the BSA, visiting to use the library, lectures and working on excavations overseen by them. 

After working as a field archaeologist in Britain for a number of years after completing my MA, I joined the Department of Archaeology at the University of Sheffield, completing an MSc in Archaeological Materials, continuing my focus on Material Science. During my MSc I became particularly interested in the microscopic analysis of metals, XRF analysis of metals and soils and Experimental Archaeology. After my MSc I continued to work for the Department, teaching on the field school and modules associated with Material Culture. 

In 2015 I started working for Heritage Doncaster, initially as an Education Officer, then moving on to become their Assistant Curator of Archaeology. During my time at Heritage Doncaster, I enabled the collection to be more accessible; to the public, for teaching and outreach, by cataloguing and interpreting the collection. As well as developing a partnership with the Department of Archaeology at the University of Sheffield, which enables material from the collection to be studied for dissertations, as well as offering work placement and volunteering opportunities. I also developed a second area of research focus, on Iron Smelting in the Iron Age and Roman period in South Yorkshire. 

In 2019 I started in my current role within the Department, as Laboratory Manager and Teaching Technician (Archaeological Science). In this role I manage our suite of Laboratories used for teaching and research in many fields of Archaeology including; Human Osteology, Zooarchaeology and Material Science. I manage a team of specialist Technicians that support the Department in carrying out teaching and research in these fields. I am the Departmental Safety Officer (DSO) and head the H&S and Estates team. I also coordinate the Level 3 Experimental Archaeology Module (AAP389), the Masters Experimental Archaeology Module (AAP6082) and the Masters Reconstructing Ancient Technologies: Metals Module (AAP647), as well as supporting teaching for other Material Science modules as well as research conducted by academic staff. I am currently completing my PhD as a staff candidate.
Qualifications

2014 – Present- PhD Candidate – Department of Archaeology, The University of Sheffield (Thesis- The inception and transmission of metallurgy: A regional approach)
2012- MSc Archaeological Materials – The University of Sheffield (Dissertation- A re-assessment of the working parameters of the Aegean perforated furnace)
2010- MA Archaeology – The University of Liverpool (Dissertation- A re-assessment of the material evidence for feasting practices on main land Greece from the LBA – EIA)
2009- BA(Hons) Classical Studies  –The University of Liverpool  (Dissertation- The technology and rationale behind temple sculpture of the Centauromachy in Classical Greece)
Research interests

Thesis- The inception and transmission of metallurgy: A regional approach

My current research is focused on the material evidence for the process of copper production in the Late Neolithic and Bronze Age within the Aegean and Balkans. My research aims to understand the material evidence from excavation and reconstruct the technological processes used to smelt and cast metal. I combine experimental archaeology and analysis to test these hypotheses.  

My previous research includes work on the reassessment of the material evidence from the sites of Chrysokamino and Kythnos in the Aegean. My research on this evidence included a series of experimental trials, in a reconstructed furnace, testing the working parameters of the smelt within the furnace. The metallurgical material produced during these trial smelts, and the ceramics involved within the process, were analysed afterwards. This material was then compared to the material from the site, to assess if the conditions achieved and undergone, in the hypothesised method of smelting, compared to that from the site. Microscopic analysis of the metallurgical material was carried out, showing that the atmosphere inside the reconstructed furnace was comparable to that from the excavated material, strengthening the hypothesis. 

This research has been presented at a number of conferences including; The Historical Metallurgical Research in Progress conference, The Theoretical Archaeology Group conference, The Aegean Round Table conference and the Society for American Archaeology annual meeting, with subsequent publications in process.

A second area of focus for my research, is Iron production in the Iron Age and Roman periods in South Yorkshire. This is carried out in partnership with past and present outreach projects, including the Roots of Iron project, heritage outreach projects in partnership with Sheffield City Council and The University of Sheffield, outreach evidence as part of the British Festival of Archaeology in Partnership with Heritage Doncaster. We have also carried out a number of Iron smelts as part of our Experimental Archaeology module for Level 3 and Masters, the experimental work carried out for the modules in the 2019 academic year have just been published in the EXARC journal
Publications
Research group

I have supervised and co-supervised Undergraduate dissertations and MA dissertations on a variety of topics within Material Science, Including Experimental Archaeology and Metallurgy.

I am interested in supervising research students who have an interest in:

Experimental Archaeology
Reconstructing the Ancient Technology of Metal
Teaching activities

Undergraduate

Experimental Archaeology (co-ordinator)

Postgraduate

Experimental Archaeology (co-ordinator)
Reconstructing Ancient Technologies: Metals (co-ordinator)
Applied Archaeological Science

I also support teaching for other Material Science modules at Undergraduate and Research level, as well as research conducted by Post Graduate Research Students and Academic Staff.
Professional activities