Biomedical Science student scoops £2,000 prize for outstanding performance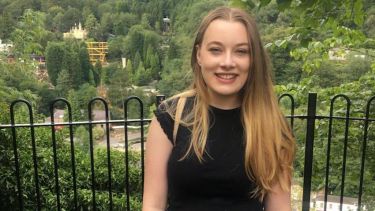 Each year, robe makers Ede and Ravenscroft generously award five prizes of £2,000 each to the student who has achieved the best results at level one in each Faculty.
First year student Grace was the proud recipient of the Faculty of Science award for 2018/19, achieving not only the best results in the Department of Biomedical Science, but across the seven science departments at Sheffield which span biology, chemistry, mathematics, physics and psychology. 
On learning of her award, Grace said: "I couldn't believe what I was reading as I opened the email - I had to double and triple check it! This has given me some piece of mind moving forwards into level 2 and I'm really pleased with my results. This year, I worked quite hard and balanced uni work with a part time job, so I'm happy it's all paid off.
"I'm not sure what I'll spend the money on quite yet but I'm sure I'll think of something! I'm really looking forwards to beginning second year and building on my current knowledge - this has been the best start to the course and I'm excited for the rest of it."
Congratulations to Grace and all our other prize winners for this academic year.
A global reputation
Sheffield is a research university with a global reputation for excellence. We're a member of the Russell Group: one of the 24 leading UK universities for research and teaching.