Guest lectures from Covance give biomedical science students a fascinating insight into drug discovery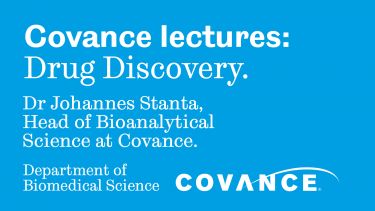 Sheffield alumni, Dr Johannes Stanta who is Head of Bioanalytical Science at Covance gave our students a fascinating insight into how the topics they're learning about during lectures and laboratory sessions are applied during real clinical trials that ultimately result in bringing new drugs to market.
Dr Stanta introduced students to the different stakeholders in the drug development process and the opportunities for graduate careers at each stage, from universities and global pharmaceutical companies, to contract research organisations and regulatory bodies around the world who complete hands-on research, testing, compliance and data assimilation roles that are so vital to success.
After sharing an insight of the timeline and cost associated with clinical trials, as well as the volume of trials taking place around the world at any one time, Dr Stanta shared what happens when a clinical trial goes wrong and why so many drugs fail when they reach the proof of concept phase, despite costly investment.
Between the lectures, students were invited to join Dr Stanta for a Q&A session to gain tailored tips and advice on applying to Covance's competitive internship schemes starting next summer. Each year a number of our students successfully secure Year in Industry placements and graduate roles with pharmaceutical and contract research organisations like Covance, spanning functions across the different stages of the clinical trials and drug development process.
Covance is a leading global drug development organisation dedicated to advancing healthcare and delivering solutions, offering laboratory testing services to the chemical and agrochemical industries as well as providing toxicology services, central laboratory services, discovery services and Phase III clinical trial management services. 
A world top-100 university
We're a world top-100 university renowned for the excellence, impact and distinctiveness of our research-led learning and teaching.